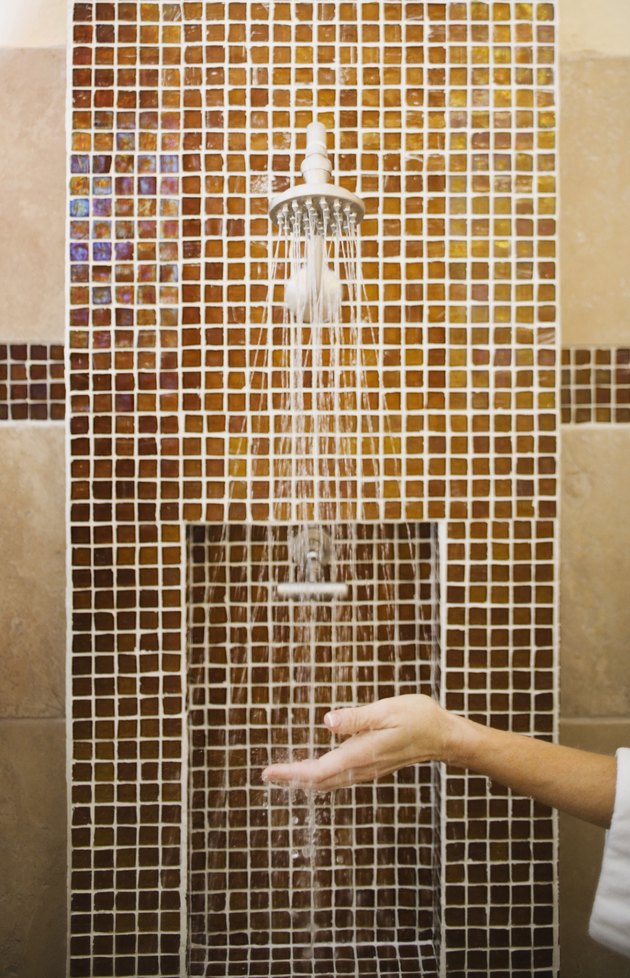 No matter what part of your home you are remodeling, you want to ensure that the new installations will last for years to come. With tile showers, in particular, you can have a lifetime guarantee as long as you follow the proper installation methods. While it might sound like a good idea to install backer board over drywall before tiling the shower, the reality is that the drywall should be removed beforehand in most instances.
Moisture Barrier
Traditional cement backer boards and fiber boards require some type of moisture barrier to be installed -- behind the board and against the studs on the wall -- to protect the wooden wall components from eventual water seepage. Installing the cement board tightly against the drywall affects the breathing aspect of the vapor barrier and traps moisture in, eventually rotting and crumbling the drywall.
Wall Thickness
For most shower walls, the drywall installed in the home during the building phase is cut off at the edge of the shower opening, and then backer board is installed in place of the drywall in the wet areas. The backer boards are usually around a one-half-inch thick in both cases. If you install another layer of backer on top of drywall, the problem you will encounter is that the wall is now another half inch thicker, leaving an ugly reveal behind that has to be covered.
Reality of Tile
The reality of tile installation is that tiles contain cement, which naturally breathes in and out and contains and expels moisture over the course of its life. Water is the bane of drywall's existence, as it turns drywall into a gooey mass that falls apart if sufficient water is present. Cement backer boards, on the other hand, do not have this issue, which is why they are used instead of drywall, and never on top of drywall.
Alternatives
A quick and easy alternative to removing old drywall and installing new backer board is to simply paint the surface of the drywall with a paint-on latex drywalling. This provides adequate protection for a tile installation as far as water is concerned, but only works if the drywall is in prime condition. Otherwise, remove the drywall, and use a waterproof-membrane system in place of the cement board; alternatively, use cement boards, as long as they have a vapor barrier.
---
Tim Anderson has been freelance writing since 2007. His has been published online through GTV Magazine, Home Anatomy, TravBuddy, MMO Hub, Killer Guides and the Delegate2 group. He spent more than 15 years as a third-generation tile and stone contractor before transitioning into freelance writing.