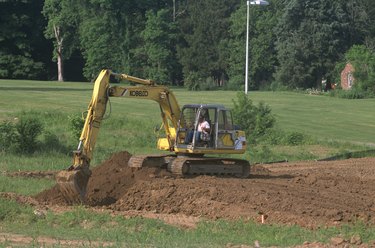 A drain tile is also known as a French drain, trench drain, blind drain, rubble drain, perimeter drain or land drain. It is a trench that directs groundwater away from a specific area, such as a foundation or basement. A drain tile is usually installed underground and can be installed outdoors or indoors. The cost of a drain tile depends on different factors, including whether you install it yourself or hire a professional.
Professional Insallation
Having an outdoor drain tile installed by a landscaper or other professional can cost as low as $10 to $30 a foot. However, the cost averages about $25 per foot depending on the depth and width of the drain. For example, a drain tile that's 30 feet to 50 feet long may cost about $750 to over $1,500.
Do-it-Yourself Installation
You can install a drain tile yourself, but the project involves digging trenches manually, such as with a hoe and pick axe, or renting digging equipment, such as a ride-on trencher, compactor or small backhoe. The materials that you'll need are fairly inexpensive and not too difficult to work with. For example, crushed rock usually costs $4 or less a square foot and daily rental of a compactor costs $85 or less. A half-day rental of a trencher costs about $80 to $100. Daily rental of a backhoe costs $200 or less.
Additional Costs
When other basement waterproofing methods don't work, like wall and floor sealers, you'll need interior drain tiles. Interior drain tiles can cost $2,000 to $6,000. The cost increases to $10,000 to over $15,000 with a sump pump basin, a device that functions as a preventive measure to flooding. A drain tile can direct excess water into an open area, but you might need a dry well to hold the water until it gradually filters into the surrounding soil. A do-it-yourself dry well can cost as little as $5 to as much as $400, but having one professionally installed costs $300 to over $5,000. Installing a do-it-yourself rain garden, which is a shallow depression that keeps clean rainwater out of the sewer system, can cost between $100 and $750 for 150 square feet.
What's Involved
When a drain tile is installed, a downward-sloping trench is dug along the course that the runoff water follows to direct it into a specific area. It is important to check local, state and federal regulations regarding the use of drain tiles to keep contaminants out of the water supply. It is also important to have a local utility company mark underground utility lines before you start digging. Installing a sump pump basin requires cutting a channel around the perimeter of the basement floor and filling it with gravel and a rigid PVC drainage pipe with holes along the bottom edge. The rigid PVC drainage pipe, which is easily installed and can be cleaned, is laid with the holes facing downward so that silt and gravel don't enter the pipe too easily.