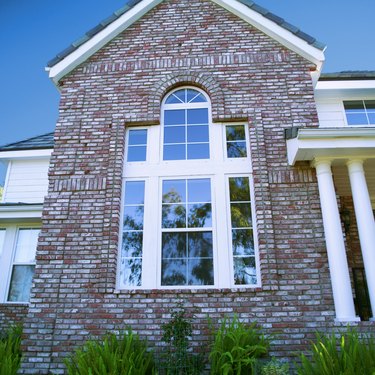 There are numerous types of siding available in the 21st century marketplace, such as vinyl, aluminum, steel, fiber-cement, wood, stone, stucco and brick. The latter three are more expensive than the others, but last considerably longer. Old siding can be removed and replaced with brick; however, homeowners should consider the costs, the siding's lifespan and its environmental impact, among other factors, before proceeding.
Evaluate Need For Replacement
Before removing existing siding and replacing it with brick, carefully consider whether or not the siding actually needs to be taken down. Isolated or small areas of damage can usually be repaired for a reasonable cost. Every kind of siding also has a predicted, average lifespan that has been calculated by experts. If you are coming close to the end of that predicted lifespan, it is much more cost-effective to think about replacing it than if you are at the beginning or middle of that predicted lifespan. For instance, hardboard siding is expected to last only 10 to 25 years, while stucco can last 75 years or more.
Consider Costs
Of the nine most common types of siding, brick -- along with stone, which has comparable costs -- is the most expensive choice. According to the Minnesota Sustainable Housing Initiative, as of 2007, material costs and labor for installing brick siding average between $9.70 and $15.30 per square foot. Its lifetime cost is 78 cents per square foot per year of expected life. This is in contrast to other types of durable siding, such as fiber-cement, which averages between $2.31 and $2.75 per square foot for installation materials and labor. Its lifetime cost is 51 cents per square foot per year of expected life.
Consider Length of Home Ownership
Brick has many advantages. It is durable and won't rot, mold, mildew, melt, warp or get eaten by insects. Its upkeep is limited to maintaining the grout and making sure any cracks do not allow moisture to penetrate into the framing. It also lasts longer than any other type of siding except stone -- at least 100 years -- and, if it is impeccably maintained, possibly more. Experts advise that brick siding is a lifetime choice; it will often last as long as the building does, so carefully consider this when installing it. If you plant to move at some point in your life, also consider whether brick increases or decreases the market value of the house.
Consider Environmental Impact
Brick and steel siding emit more carbon dioxide in their production than any other type of siding and produce the most overall air pollution. Brick also consumes more energy in its production than any of its siding counterparts. However, because brick can last 10 times longer than other siding options, it produces less after-use waste. Products like vinyl, on the other hand, create dangerous chemicals known as dioxins, PCBs and phthalates. Wood harvested from non-sustainable sources create problems with erosion, loss of habitat and stream sedimentation. Alternative wood siding, such as cedar shakes and bevel or lap siding, made from sustainably-harvested forests have the least overall environmental impact of all types of siding and can last as long as 75 years. Carefully consider the environmental impact your siding will have before committing to it.
---
Elizabeth Jennings began publishing creative works in 1988 and has been a professional editor and writer since 2002. She holds a dual Bachelor of Arts in anthropology and philosophy.