Odors linger in a home and can spread to different rooms if you do not remove them. Pet, garbage and food odors often become unbearable, and opening a window may not be an option. Masking the household odors with an air freshener may only temporarily relieve your nose of the smell. Instead of covering the odors up, remove them with items in your home.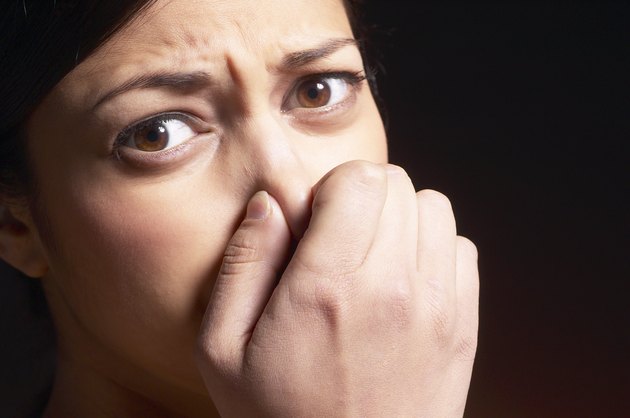 Unused cat litter absorbs odors in the home. You do not have to use scented cat litter, but it does emit a pleasant aroma as it absorbs the odors. When you use cat litter, select a nonclumping kind because any moisture that the litter absorbs may cause the clumping kind to become hard and ineffective at absorbing the odors. Fill a bowl with the cat litter and place it in the area where the odor smells the strongest. Cat litter also absorbs odors in refrigerators if you do not have any baking soda around the home.
Vinegar absorbs odors and neutralizes them to leave a room with a fresh scent. White distilled and apple cider vinegar both work well at absorbing odors. When you use vinegar, you will need several shallow bowls. Fill the bowls with the vinegar, and place them in the room with the odor. Set the vinegar in an area where it cannot be spilled or disturbed. Empty the bowls daily and replace the vinegar until the smell disappears.
People are often the most familiar with using baking soda to remove household odors. An open box of baking soda usually sits in refrigerators to remove food odors. Baking soda can also absorb odors in other areas in the home. Deodorize your carpet or upholstery by sprinkling baking soda over it. When the baking soda absorbs the odors overnight, vacuum it off the floor or the upholstery. You can also sprinkle baking soda inside smelly shoes or pour it onto a bowl or plate and let it sit in a room to remove lingering odors.
Activated charcoal absorbs odors due to its porous surface. It is not the same as the charcoal sold in the grilling section at the grocery store. You can normally find it in the pet supply aisle located near the fish supplies or online through specialty stores. It may also be sold as activated carbon. Fill a bowl or container with the activated charcoal and place it in the area that contains the odor. Let the activated charcoal absorb the odor for two to three days. Replace the charcoal or follow the package instructions to reactivate it. Sometimes the charcoal may be heated to remove the absorbed odors.