Things You'll Need
Water

Bucket

Mop

Soft brush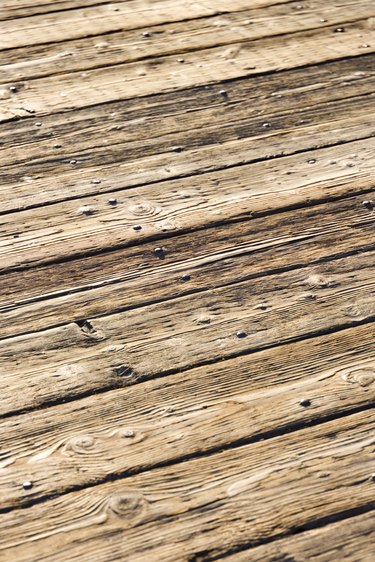 Sodium percarbonate is the active ingredient in many home and laundry cleaning products, including powdered eco-friendly bleach products such as OxiClean. When dissolved in water, it breaks down to oxygen, water and sodium carbonate that deodorize, bleach and clean while killing bacteria, viruses, fungi and algae. Dissolved sodium percarbonate proves ideal for deck cleaning, because no harmful chemicals are required to remove mold, mildew or weathered gray residues from your wood deck.
General Cleaning
Step 1
Dissolve 1/2 cup of sodium percarbonate into 1 qt. of hot or warm water in a large bucket or bowl. Stir the mixture to fully dissolve the sodium percarbonate.
Step 2
Spread the solution on the deck surface, using the mop and bucket to cover one workable section at a time that you can scrub and rinse before it dries.
Step 3
Leave the sodium percarbonate solution on your deck for 10 to 15 minutes. Scrub with a soft-bristled brush or broom to remove stuck-on dirt and debris. Rub in the direction of the wood grain.
Step 4
Repeat the application and scrub until the entire surface of the deck is cleaned.
Step 5
Rinse the deck surface thoroughly with clean water. Mop or sponge up excess water.
Cleaning Mold and Mildew
Step 1
Dissolve 1/2 cup of sodium percarbonate into 1 qt. of hot water.
Step 2
Mop the solution onto the soiled wood and let it sit for at least 30 minutes. For heavy mildew, allow the solution to sit for an hour.
Step 3
Scrub with a soft brush until all mildew and mold are removed. Rinse the deck surface thoroughly with water and mop up excess moisture.
Tip
Each quart of sodium percarbonate and water solution will clean about 16 square feet of deck surface. For larger areas, use the ratio of 1/2 cup of sodium percarbonate for every quart of water.
Don't allow the solution to dry on the deck surface. Cleaning is only effective if you scrub the solution while it's still moist. Don't use sodium percarbonate when the wood surface or ambient temperature is higher than 75 degrees Fahrenheit because it will dry too fast.
Warning
Sodium percarbonate may cause the natural tannins, oils and protective chemicals in your deck surface to leach out, so use caution when increasing the concentration of sodium percarbonate in your cleaning solution. Use only as much as needed to achieve desired results.