Bathrooms are one of the most often-used, highlighted areas of a home, and fiberglass showers one of the first things that may require updating in this key area. Clean, sparkly new tile updates an outdated fiberglass shower surround. A DIY tile shower weekend project is achievable as long as you plan everything properly and allocate time for each required step. Asking for a friend's help -- especially in removing the fiberglass surround -- can speed the work.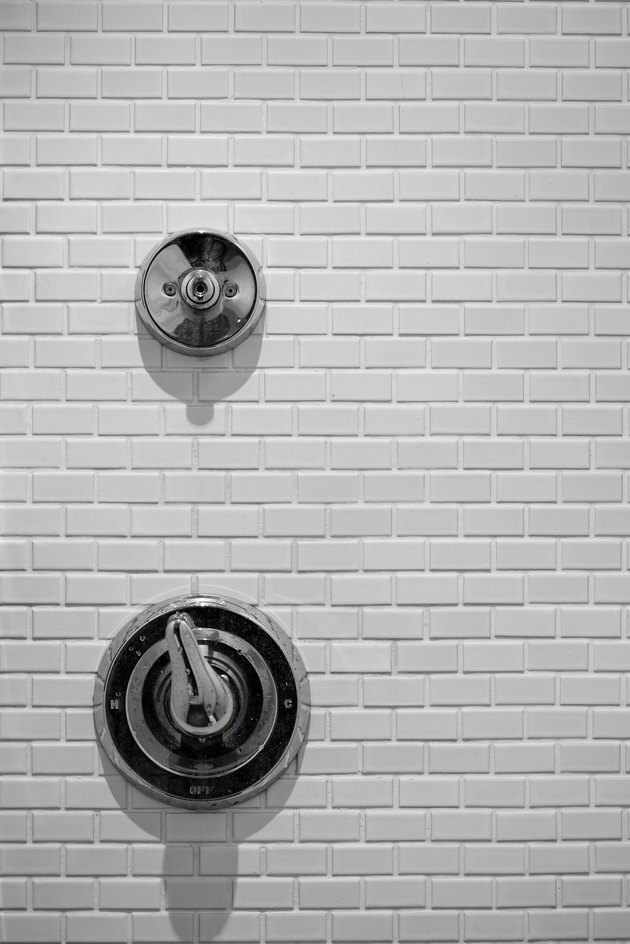 Step 1
Remove the fiberglass shower surround. Use a utility knife to cut a seam along all drywall-fiberglass intersections. Turn off the bathroom's water source. Remove plumbing fixtures such as valve handles and the showerhead. Remove the drain and drain hardware. Pry behind the fiberglass shower enclosure with a pry bar, starting at the left or right side. Solicit the aid of a partner or friend to wedge and pry the fiberglass enclosure away from the walls. Carry away and dispose of the fiberglass enclosure.
Step 2
Mark the shower tile layout. Remove drywall where the new tile will go. Install a moisture barrier paper or plastic sheeting over the studs. Install a cement board matching the existing drywall thickness. For extra strength, use self-tapping cement backer board screws to affix the cement board sheets. Use fiberglass mesh tape at corners and seams. Install the fiberglass mesh tape with acrylic-modified thinset mortar.
Step 3
Measure the shower base. Purchase a fiberglass shower pan matching the shower base dimensions. Connect the plumbing components to the fiberglass shower pan drain. Caulk in all shower pan-wall intersection areas.
Step 4
Measure the walls. Mark a center point for each wall. Horizontally mark the center points. Mark a first-row starter course off the fiberglass pan's top edge. For example, make a 4-inch mark if using 4-inch tile, an 8-inch mark if using 8-inch tile and so forth. Mix latex-modified thinset mortar in a bucket. Start at the center of the wall and move up. Cut corner pieces with either a wet saw or hand-guided tile cutter. Use tile nippers or a 4-inch grinder for cutting out rough plumbing. Allow 24 hours for the tile to dry.
Step 5
Mix a color-matching grout in a clean bucket. Mix the grout by hand to a medium consistency. Apply the grout with a rubber grout float. Wipe excess grout from the tile's surface, using a grout float. Allow grout to stiffen and wash it with a sponge and clean water. Allow time for the grout to dry and develop a slight haze on the tile. Clean the haze and any remaining grout with a sponge and clean water. Allow 24 hours for the grout to dry.
Step 6
Install plumbing fixtures. Attach the showerhead and test the plumbing by turning on the water supply. Apply caulking around the tile/shower pan intersection. Seal the tile and grout joints with a penetrating tile sealant.