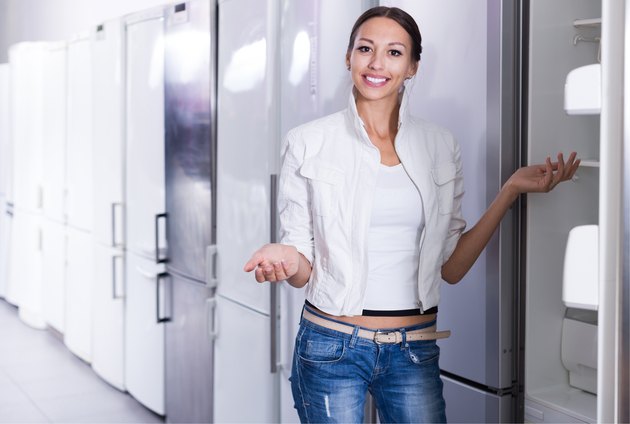 Kitchen appliance colors have changed even more than hemlines over the years. After the 1950s, stark-white appliances were replaced by colors from harvest gold to avocado to poppy red. Today, homeowners have returned to more neutral kitchen appliances, typically choosing white, black or stainless steel options. All work well and last for many years when properly cared for, so the color you choose will come down to personal taste and the style of kitchen you want.
Stainless Steel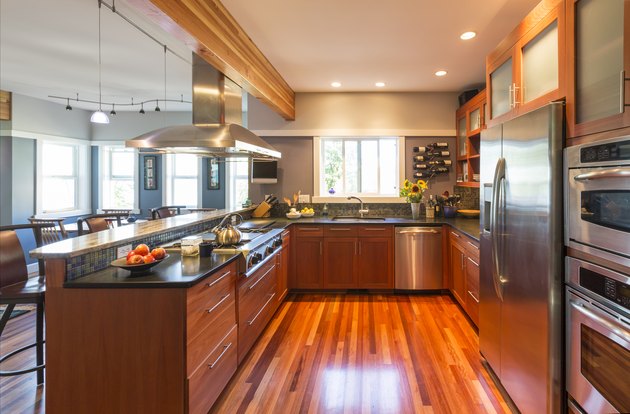 Stainless steel adds a sleek and modern look to kitchens. This popular finish goes well with any kitchen paint or decor, and brings a sophisticated look to kitchen spaces. Because it matches any color, a stainless steel finish is a good choice for lofts, studio apartments and other open floor plans. Stainless marks easily, though, so be prepared to deal with fingerprints and nose prints if you have kids and dogs. To avoid this pitfall, consider the new black stainless steel option. A bit darker than traditional stainless, black stainless hides fingerprints better and has a matte finish.
Sleek and modern
Matches any cupboard, countertop, sink or paint color
Lends a high-end feel
Never goes out of style.

Shows fingerprints and smudges
Feels cold in some kitchens
Is more expensive than other finishes.
Black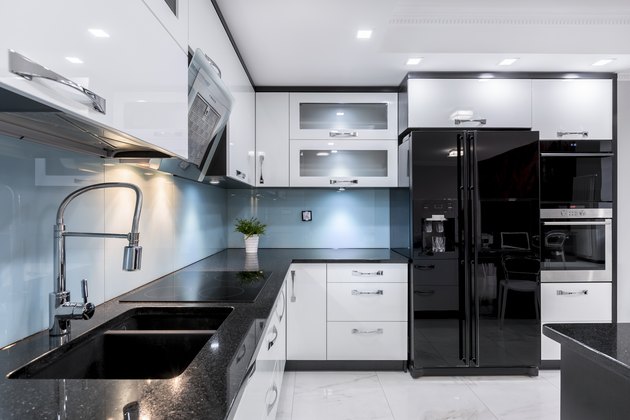 Like stainless steel, black adds a modern feel to kitchen spaces. Black, however, looks a bit less industrial and works better with natural materials like wood cabinets. Black appliances modernize a space without industrializing it. It's also easy to match: Coffee makers, microwaves and other appliances that frequently sit on countertops are easy to find in black, making it simple to coordinate your space. Black appliances can, however, make a kitchen feel a bit too dark. Despite hiding fingerprints well, black does show spills and dirt.
Neutral color that is easy to match
Adds a modern look to the space
Hides fingerprints
Gives a warmer feel than stainless steel.
May make the room too dark
Shows dirt and spills
Is trendy rather than timeless; black's popularity could fade.

White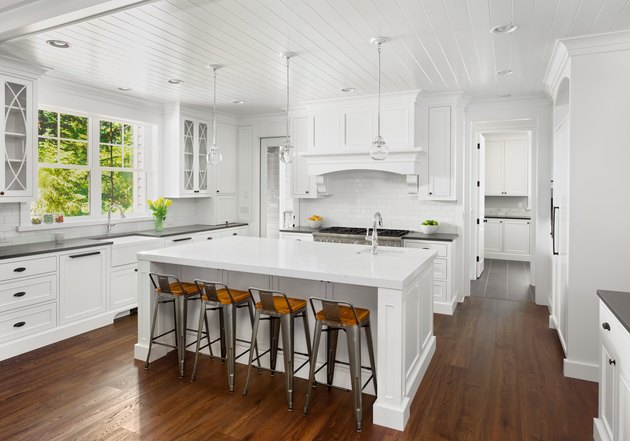 Some people simply love the look of an all-white kitchen, which of course requires white appliances. White looks great in kitchens with a homey, cottage feel and is good for a crisp, clean look. It can create either a modern or a traditional feel, lending versatility to kitchen designs, and it brightens dark spaces. White looks welcoming and warm when used well, but may look overly sterile and stark if not softened with the proper finishes or accents. Some people feel white looks dated, but others can't get enough of white appliances.
Matches any color

Versatile enough to work in modern and traditional kitchens
Hides fingerprints
Add brightness to the kitchen.

Can look sterile and cold, even a bit boring

Shows dirt
May date the kitchen if modern finishes are not used elsewhere.

---
Home is where the heart is, and Michelle frequently pens articles about ways to keep yours looking great and feeling cozy. Whether you want help organizing your closet, picking a paint color or finishing drywall, Michelle has you covered. If she's not puttering in the house, you'll find her in the garden playing in the dirt. Her garden articles provide tips and insight that anyone can use to turn a brown thumb green. You'll find her work on Modern Mom, The Nest and eHow as well as sprinkled throughout your other online home decor and improvement favorites.
View Work