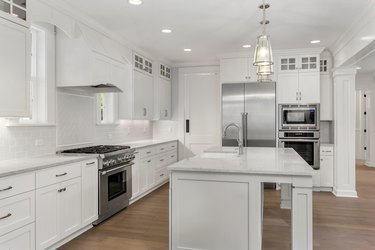 When it comes to buying appliances, three main options exist for matching the decor of your kitchen: black, white and stainless steel. If you're not already completely devoted to one of these options, you can learn more about the differences between black, white and stainless steel appliances to help you make a decision.
Cleanliness of Different Appliances
One of the major advantages of stainless steel appliances is that they are easy to wipe clean. Anything that spills on a stainless steel refrigerator, stove top or dishwasher can be wiped away stain-free. In contrast, stains might settle into white appliances and become eye-sores if the mess isn't cleaned up right away or with the proper cleanser. Black appliances will hide messes, especially if they have a matte finish, but the trade-off is that grime and spills might remain hidden and unaddressed unless you have a diligent cleaning routine.
Stainless steel appliances are also easy to disinfect, which can be a nice feature to have when cleaning up after handling raw meat or when eradicating germs after a family member gets sick. You can also sanitize other appliances, but there's a reason why stainless steel is the material of choice in operating rooms and veterinary offices: it is very easy to disinfect. If a sterile kitchen is important to you, stainless steel appliances are an excellent choice.
Fingerprints Show on Stainless Steel
Perhaps the biggest aesthetic downside of stainless steel is that the dull grime of greasy fingerprints is readily visible on this metal's otherwise shiny surface. If you're a stickler for having a spotless kitchen, these fingerprints might prove irritating. Plus, stainless steel easily shows scratches.
White and black appliances tend to have matte finishes that do not show fingerprints as easily. However, over time, a white appliance, in particular, could begin to show a buildup of dirt on its handles. Black appliances are least likely to show fingerprints and the dirt that they attract.
Consider Your Kitchen's Decor
Finding an appliance style that meets your maintenance and cleanliness expectations is important, but so is having appliances that complement your kitchen's decor. If you want a sleek, modern and almost futuristic look, you'll love stainless steel.
If you want to create a bold color scheme, black appliances would pop against lighter-colored cabinets and counters. On the other hand, if you want your appliances to blend in and let the counters, backsplash and cabinetry take center stage, then white appliances represent an excellent neutral color.
Black, white and stainless steel appliances are all popular enough to have very little difference in terms of prices. In fact, many appliance models are available in each of these three colors. For example, this GE range from Home Depot has the same price point for white, black or stainless steel versions.
You might end up paying extra if you choose a relatively new option called black stainless steel. This has a slightly matte finish that offers stainless steel's ease of cleaning while also hiding fingerprints. Sometimes other colored finishes are available in "fingerprint-resistant stainless steel," which can also bump up the price of the appliance.
Ultimately, your choice depends on what you think coordinates well with your current kitchen design. If you need a little help visualizing the options, you can use a tool like IKEA's 3D Kitchen Planner to see how different colors look among your kitchen's other features.