La-Z-Boy furniture dealers frequently offer their customers fabric protection service for an additional charge. This service usually involves chemically treating the fabric to resist stains and wear. Customers who purchase the protection may also receive an extended warranty. Be aware, however, that the La-Z-Boy fabric protection plans come from third-party dealers, not La-Z-Boy. The company itself does not offer or endorse such plans.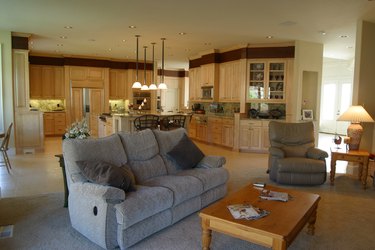 La-Z-Boy Company
Though best known as a maker of recliners, La-Z-Boy produces a full range of furniture under about a half-dozen brand names. The La-Z-Boy brand focuses on living-room and family-room furniture, including sofas and sectionals, sleepers and ottomans a well as coffee, end and occasional tables. They also offer media centers. The company sells La-Z-Boy products both in independent furniture stores and through a network of branded retail outlets, including La-Z-Boy Furniture Galleries. These gallery stores sell only La-Z-Boy products. La-Z-Boy also establishes their own section within other furniture stores known as La-Z-Boy Comfort Studios. Most La-Z-By branded outlets, however, are independently owned franchises.
Dealers and Company Stance
La-Z-Boy doesn't sell fabric protection spray for furniture or any other type of fabric protection. Their website stresses that fabric protection plans come from independent furniture dealers and franchisees -- not La-Z-Boy. The company says it neither provides nor endorses any fabric protection plans. It advises customers with questions or complaints about fabric protection to contact the dealer that sold them the plan in the first place.
La-Z-Boy does, however, offer a specific line of La-Z-Boy upholstery fabric known as iClean. iClean fabrics come from the La-Z-Boy factory with some built-in stain resistance and protection. Unlike fabric protection sprays and chemicals applied to the furniture after it's made, iClean fabrics have stain resistant properties by design that get built into the fibers.
What Is Fabric Protection?
Fabric protection typically means treating the fabric with a chemical to prevent stains from setting into the fibers, keep the color from fading and reduce friction wear on the fibers. Since La-Z-Boy isn't involved in providing protection plans, individual dealers make their own arrangements. Most La-Z-Boy Furniture Galleries contract with Guardian Protection Products to provide fabric protection service. Guardian's service includes treating furniture with an Environmental Protection Agency-approved chemical, supplying a cleaning kit to customers and guaranteeing the protection for five years.
La-Z-Boy Warranty
La-Z-Boy warrants its iClean fabrics against staining for three years and Guardian Protection Products guarantees their stain protection applications for five years. Any other issue or problems with your furniture fall under La-Z-Boy's warranty. This warranty changes depending on the specific mechanisms and products included with your furniture, but typically ranges from one to five years. Some parts, however, do come with lifetime warranties. With the exception of the iClean line, La-Z-Bot guarantees fabrics for only one year. This warranty only applies only to fabric separation, seam failure and loss of the fabric's nap, which is essentially the fuzziness of the fabric surface. No protection against staining or fading is included.