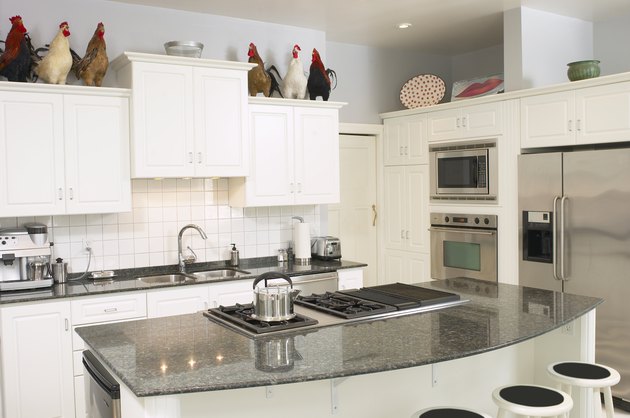 Granite is one of the hardest natural stones you can install in your house. It can be installed as tile or as a slab, depending on the area. Both types of installations rely on caulking to some degree, whether for installation or for waterproofing and protecting the inside corners after the installation. You can choose from a variety of caulks, each with their own unique strengths.
Construction Adhesive
Construction adhesives are basic adhesives sold to be used as installation caulking with a variety of materials. While some types are manufactured specifically for use with wood-on-wood applications or wood and metal, some types of construction adhesive are created to be used with natural stone installations, such as with granite slabs. They range in color and are not used for finishing installations, but for the installation of the slab itself.
Silicone Caulk
Silicone caulks can be used two different ways when dealing with granite. They can be used to install the slabs themselves as an adhesive between the slab and the substrate behind or beneath the slab, as well as between each additional piece of granite slab to hold the installation together. They can also be used to seal any inside corners from water, such as where a kitchen countertop meets a backsplash. Most often silicone caulking is clear, but it comes in a range of colors.
Latex Caulk
Some latex caulks are specially designed to be used for granite installation. However, most latex caulks are sold to be used with granite as joint filler, such as in bathroom areas where a slab of granite or granite tiles meet a bathtub. Latex caulk comes in a variety of colors to match the color of the granite and the surrounding décor.
Acrylic Caulk
The cheapest type of caulking available for use with granite projects is acrylic caulk. It is only used as a joint filler and can be used on any type of inside corner where the granite meets another surface. It is the most common type of water-protective caulking used with granite installations, due to its affordability. Similar to latex caulks, it comes in any range of colors to match the installation.
---
Tim Anderson has been freelance writing since 2007. His has been published online through GTV Magazine, Home Anatomy, TravBuddy, MMO Hub, Killer Guides and the Delegate2 group. He spent more than 15 years as a third-generation tile and stone contractor before transitioning into freelance writing.