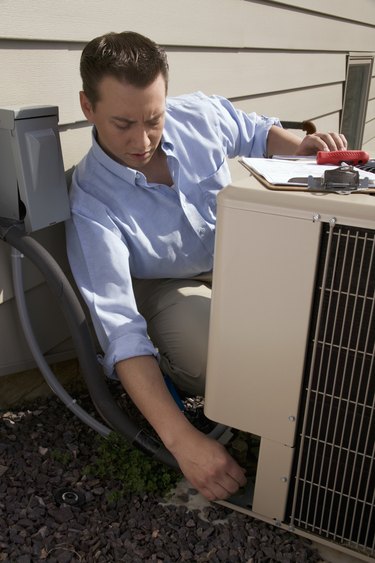 Evaporative coolers and refrigerated air conditioners work on entirely different principles. An evaporative cooler uses water-soaked pads and a fan to bring in cooled air from the outdoors, while an air conditioner uses pressurized coolant to cool the air. Air conditioners deliver the same temperature regardless of outdoor weather conditions, while the temperature of air evaporative coolers deliver depends on the temperature and humidity of outside air. The only part of an evaporative cooler system you can use with the central air conditioner is the ductwork if your evaporative cooler blows air through the ducts.
Step 1
Decide whether you want to keep your evaporative cooler. These coolers work well when the humidity levels are low or the dew point is below 55 degrees F. Evaporative coolers cost less to run than air conditioners and you might want to use it as a backup if the air conditioner quits until you can fix it.
Step 2
Contact a heating, ventilation and air conditioning (HVAC) retailer who can come to your home to advise you on the best unit for cooling your home. The company's representative will visit your home and calculate how large the air conditioner needs to be to adequately cool your home. Installing the right size is critical to keeping your home cool and comfortable, but too large a unit actually makes cooling your home more difficult since the unit cycles on and off too quickly to reduce the humidity in the home. It also wears the air conditioner out faster.
Step 3
Arrange a time to be home while the installers put in your central air conditioner. If you already have ducts in the house, the process goes much more quickly. It can take an entire day to put in a central air conditioner, so you may need to take a vacation day from your job or schedule a responsible friend or family member to be at your house. The price of a central air conditioner often includes the installation; a licensed HVAC technician must charge the system due to EPA regulations regarding coolant handling. Self-installations also void all the warranties for the equipment.
Step 4
Turn off your evaporative cooler once the air conditioning system is ready to run. Close any doors and windows or ceiling ducts used for the coolers. Air conditioners work in a closed system and recirculate the air, while evaporative coolers bring in fresh air continually. If you decided to dispose of the evaporative cooler, you can sell it, give it to charity or take it to a metal recycler. You will have to close up any holes in the roof, wall or windows to seal your home.