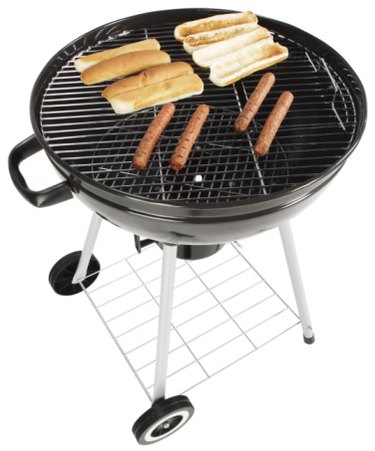 There is a grill in 82 percent of American households and most owners use them throughout the year, according to a 2009 study by the Hearth, Patio and Barbecue Association. Families and friends gather around the grill for holidays, birthdays and for no particular reason at all. Whether large crowds or a party of one, with beef, pork, poultry or vegetables, the American grill is a staple of everyday life, and its widespread popularity and frequent usage has both advantages and disadvantages.
Convenient Options
Grills cook food at a rapid rate, drastically reducing the time it takes to prepare meals. Compared to the alternatives of baking or frying, grills cook food in a fraction of the time, which makes them both convenient and expedient. Grills also provide the opportunity to escape the confinement of the kitchen and enjoy the atmosphere outside. In addition, they are great for socialization, as their distinct aromas entice others to gather around and enjoy the sights, scents and sounds of grilled food.
Health Benefits
Compared to frying, food cooked on a grill is significantly lower in fat and calories. Consuming fried food can cause health risks, including obesity, high blood pressure, heart disease and stroke. Even low fat food becomes high in fat when it is fried. However, food cooked on a grill is not saturated with fat, and any fat inherent in the food seeps off, resulting in substantially fewer calories and fat.
Health Risks
Although food cooked on a grill is lower in fat and calories, when the high heat of grilling interacts with the proteins in meat products, the result is heterocyclic amines, which pose a significant cancer threat. However, briefly microwaving meat before placing it on the grill decreases this risk. Also, according to Women's Health Magazine, both grilling and deep-frying produce advanced glycation end products, and these dangerous compounds can cause diabetes, heart disease and even Alzheimer's.
Fire Hazard
The National Fire Protection Association reported that between 2004 and 2008, there were 7,700 residential fires per year involving grills, hibachis or barbecues, resulting in 13 deaths, 120 injuries and $70 million in property damage annually. To personalize those statistics, in June 2011, NBC 12 in Richmond, Va., reported that 32 people were displaced when a fire destroyed an entire building in an apartment complex. The fire was a result of a resident who was grilling on his third floor balcony.