If it blinks, hums or fails to cool down, you may need to reset your refrigerator. Not all refrigerators come with a straightforward reset button, but most refrigerators can be reset a few ways. If you know why the refrigerator is on the fritz or flashing lights for help, you can easily remedy the ailing appliance.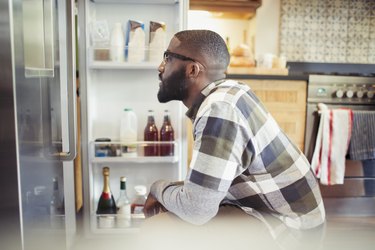 Reset Water Filters
It seems straightforward enough. To change a refrigerator's water filter, simply pop out the old one and replace the new. But after finding the filter, cleaning the casing and returning any lids or snaps to their rightful place, the refrigerator itself may need a reset. If the refrigerator is not reset after a new filter is gingerly placed in its new home, the appliance may not function at its best level. The blinking light that indicates the filter needs to be changed may continue to flash if the refrigerator is not reset. Most don't automatically reset. If the appliance has a reset button, it should just need to be held in for 30 seconds to correct the fridge. Some refrigerators, including Maytag and Amana, need to have the lock button and the reset or auto buttons held at the same time to reset the fridge.
Reset Temperature Issues
When the cilantro wilts and the butter become soft, it can throw off your dinner plans as well as add to your stress level. A fridge that is having a hard time keeping your food supplies at the proper temperature for safe consumption may need to be reset. Locate the temperature control switch on the inside of the refrigerator. It is usually in the middle of the back panel or at the top of the refrigerator in a panel above the upper shelf. Make small changes in the temperature or you may run the risk of freezing the contents of the fridge. If the appliance is already putting a layer of frost on your leafy greens, then use the temperature controls in the opposite direction to make the refrigerator warmer. The control should indicate which direction is warmer and cooler.
Reset Refrigerators
When all else fails, unplug the broken beast. If you can't locate an auto, reset or filter reset button, the refrigerator may just need a rest in order to correct itself. Leave the appliance unplugged for 30 seconds to two minutes to give it a chance to start up again anew. Always follow the manufacturers instructions before moving and manipulating electronic parts of a large appliance. While the refrigerator is unplugged and removed from its nook, take the time to vacuum the coils and vents in the back of the fridge that often don't get enough attention throughout the year. This can also assist in getting the refrigerator back up in good running order.