When you change your bathroom faucet, the spout and handle is not the only change. The bathroom faucet is typically packaged with the drain stop, the plug inside your bathroom sink drain. Changing one without the other is simply not a complete renovation, so changing both at the same time only makes sense.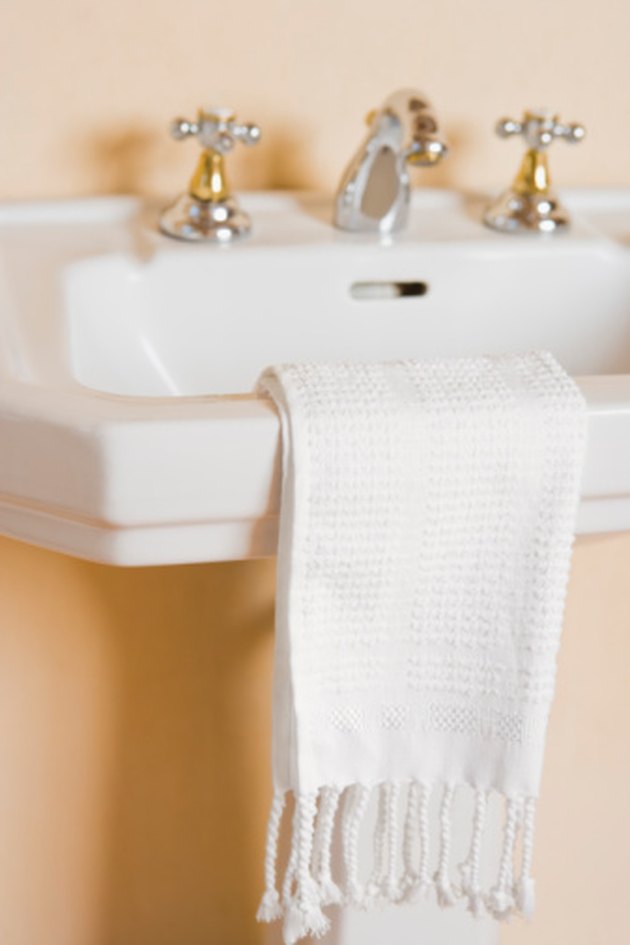 Drain Plugs and New Faucets
When you buy a new bathroom faucet, it usually comes with a drain stop. Your new bathroom faucet includes everything needed to install the new drain plug, including the pull rod attachments and, in some cases, the pull rod -- the long rod that runs from the base of the faucet to under the sink. This rod is the one you pull to engage, or stop up, the drain. Not all manufacturers include this part; in fact, some do not include anything but the drain plug and its hardware.
Included Parts and Hardware
The pop-up drain plug is a complicated piece of equipment and includes several different individual parts. The first is the drain itself, which is the round part that sits inside the sink and is made of metal. It has a long drainpipe attachment that slides into the sink's drain hole. A mounting nut attaches to the pipe, securing it to the sink. The pop-up drain mechanism is included in the drainpipe. A rod inserts into this assembly and connects to the vertical drain rod installed with the faucet. The two connect together with a piece of metal hardware. It slides over the drain rod and secures the two together.
The fact that a drain plug comes with your faucet has more to do with looks than with function. The drain is the only other visible part of the faucet and sink, so the finish has to match the faucet. If the plug did not come with the faucet, and you install a chrome faucet in place of a brushed nickel faucet, you will have a brushed nickel drain and shiny chrome faucet, which simply does not match. Drains will wear out after awhile, so replacing it along with the faucet ensures the part continues working properly.
To install the faucet drain, coat the lip of the drain with silicone or plumber's putty. Slide the drainpipe through the sink, attach the mount nut underneath the drain and tighten it. Push the drain rod -- the lever extending horizontally from the drainpipe -- through one of the holes in the vertical drain plug rod extending down from the faucet. Slide the connecting sleeve over the end of the horizontal drain rod to secure it in place. Test the drain by lifting and lowering the drain rod on the faucet. Adjust it by sliding the horizontal rod through a different hole in the vertical rod if necessary.