Laminated Veneer Lumber is an industry standard in the framing of new buildings and is used to replace solid wood beams and joists in renovating existing buildings. LVL is made in a process similar to plywood: Rotary peeled wood veneers, usually pine or fir, are dried then laminated together with glue and resins under heat and high pressure to form sturdy, consistently reliable framing lumber.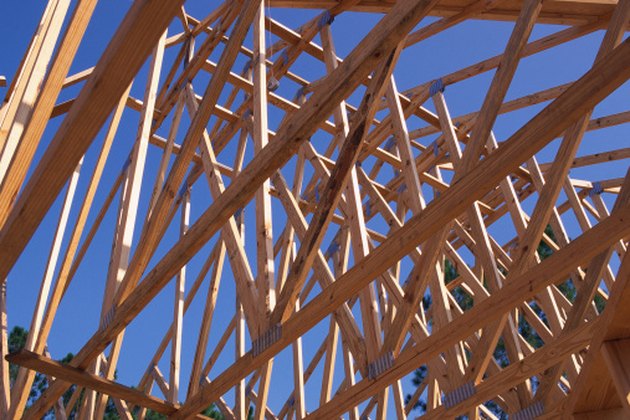 Sizes may vary according to manufacturer but Georgia Pacific says LVL standard thicknesses are 1 3/4 inches and 3 1/2 inches. Lengths are generally available in 24, 28, 32, 36, 40 and 44 feet with special orders of up to 60 feet. Standard depths are 9 1/4, 9 1/2, 11 1/4, 11 7/8, 14, 16 and 18 inches with others available by special order.
According to This Old House, Laminated Veneer Lumber creates structural elements that "virtually never fail if used correctly." Its load capacities are precisely calculated for each use. The grains of LVL all run in the same direction and this makes it very stiff and stable. Because of its tensile strength it has the quality of holding up a lot of weight along its length without sagging. Its strength also gives it the ability to span long, open spaces eliminating the need for posts.
Laminated Veneer Lumber is most commonly used as beams and joists in framing buildings. Its tensile strength makes it good for door and window headers, stair stringers, ridge beams, cantilevered roof supports and other beams. Intended generally to provide a structural function only, the surface finish of LVL is usually of low architectural quality with glue lines visible; however, if required, LVL products can be sanded and painted to give a similar finish to solid painted lumber. LVL can be used wherever regular lumber is used, but it is most often used for flanges in timber I-beams and ply-webbed box beams. Structural LVL can be used as structural beams — floor joists and bearers, wall girts, lintel beams and roof framing beams.
An added virtue of Laminated Veneer Lumber, according to This Old House, is that many trees are spared from the lumber industry because it takes less of them to make a lot of lumber using veneer rather than whole sawed lumber.