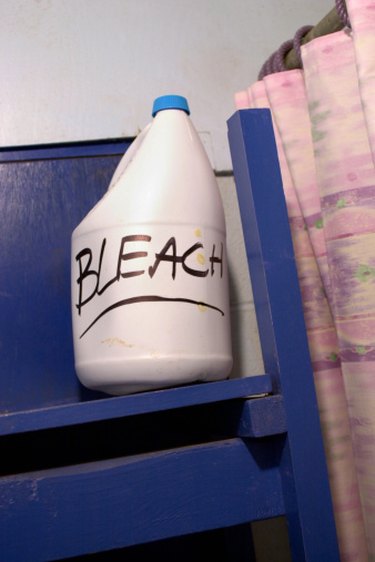 Color safe bleach or nonchlorine bleach contains a high concentration of hydrogen peroxide. The bleach is regarded as safer for the environment and will not harm colored fabrics the way regular bleach does. Regular bleach contains different toxic chemicals that kill bacteria and germs, while also cleaning clothes. Color safe bleach does not kill germs, according to two different manufacturers.
Manufacturer Insight
Clorox released Clorox 2 as a type of color safe and chlorine-free bleach. According to the Clorox website, the Environmental Protection Agency does not list Clorox 2 as a type of disinfectant to kill germs or bacteria. Clorox does suggest using the product to clean and disinfectant fabrics that can be used safely with sodium hypochlorite bleach. Seventh Generation, which makes a chlorine-free bleach that is safe for use on colored fabrics, says the product does not include a disinfectant or kill germs.
Comparison
Color safe bleaches contain hydrogen peroxide, which works like bleach at lifting stains. Regular bleach removes stains from clothing but also bleaches the surrounding fabric, changing the overall color. You should only use regular bleach on white or light colored fabrics. Regular bleach is also safe to use as a disinfectant because it kills germs and bacteria. The regular form of bleach is even helpful at removing and killing mold in your home. Color safe bleach is best suited for colored fabrics with stains. Clorox recommends using the product on food and beverage stains and to whiten white and colored fabrics.
Considerations
The only way a color safe bleach will kill bacteria and germs is if the manufacturer included an extra ingredient designed for that purpose. According to The Pediatric Insider of Opposing Views, eco-friendly cleaners sometimes add a plant-based alcohol that kills germs, like ethanol made from corn. Read the label carefully, and review the ingredient list. You may find a color safe bleach that cleans and disinfectants around the house, but it generally does not work as well as regular bleach.
Cleaning
Pure hydrogen peroxide may work as a cleaning product around the house. Color safe bleach uses hydrogen peroxide mixed with other ingredients that dilute the effectiveness of the liquid. Hydrogen Peroxide claims that 3 percent hydrogen peroxide, like the type available from drugstores and grocery stores, is strong enough to lift stains, clean wood floors and disinfectant showers and bathrooms. Use the hydrogen peroxide in a plastic spray bottle for the best results.