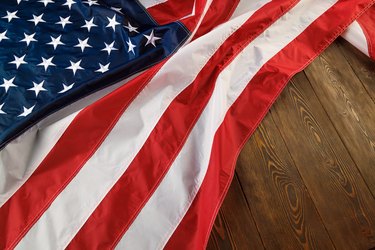 If you're getting ready to put out your flag for the Fourth of July, you may find that the nylon has wrinkled while you were storing it. You certainly don't want to hang a crumpled flag, so you may need to iron it first. With the proper technique, you can iron nylon without damaging it. There are also a few tricks you can use to avoid using an iron altogether.
You can melt nylon and make a mess of it if you don't iron it properly. Fortunately, simply placing a clean towel over the flag can make ironing safer. Even with this buffer in place, don't ever let a hot iron sit on the fabric. Always keep the iron moving.
Set up your ironing board near a power outlet.

Fill your iron with water and turn it on to let it heat up. Set the iron to its lowest heat setting.
Smooth your flag over the ironing board as you wait for the iron to heat.
Lay a clean towel or piece of fabric over the flag to protect it.
Iron the flag by ironing the fabric lying on top of it. Stop ironing periodically and lift the cover fabric to check your progress.
Honestly, ironing isn't really a fun chore, and you can avoid it if you have a clothes steamer which you can use to remove the wrinkles from your nylon flag. In fact, some flag manufacturers claim this is the best way to get rid of flag wrinkles.
Hang your flag where you can easily reach it.
Fill your steamer and set it to medium. Give it a minute or two to heat up.
Hold the steamer wand up to the flag and steam the wrinkles out, starting from the top and working your way down. Hold the steamer wand at the distance away from the flag specified in your steamer instruction manual. Don't hold the steamer against the flag.

How to Wash Wrinkles Away
Water acts as a kind of reset button with many different fabrics. The easiest way to get rid of wrinkles, then, is to simply wash the flag in your washing machine or by hand and then hang it up to dry. When dry, the flag should be wrinkle-free.
Rub a cotton ball on the fabric to see if the dye is color safe. If the cotton ball stays clean, it's OK to wash the flag. If the cotton ball picks up the dye color, however, you should not wash the flag.
Place the flag in the washing machine and add a mild detergent.
Run the washer on the delicate setting using cold water.
Hang the flag or lay it flat to dry. Drying the flag in the dryer can bunch it up and make new wrinkles, especially if you don't take it out of the dryer very promptly when the dry cycle is done. Hanging is the best drying method.