Things You'll Need
Orbital sander

Shop-Vac

Sandpaper

Sealer

Stone enhancer

Dust mask

Eye protection

Plastic

Painter's drop cloth or plastic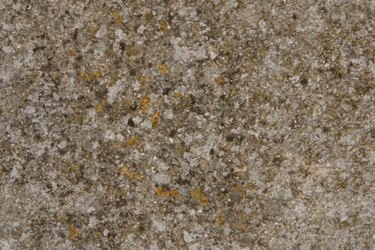 Granite comes in a wide variety of colors, tones and sizes, but a common trait unites the material: the "shiny" polished surface area that often presents a dated, out-of-style look in bathrooms or slippery conditions on flooring. For the do-it-yourselfer, sanding the surface area of shiny granite is the easiest, safest and least expensive approach to remove unwanted shininess.
Step 1
Remove furniture or household items from the work area. Cover furniture in nearby rooms with plastic or a painter's drop cloth. Purchase or rent an electric palm or orbital sander. Purchase several grits of sandpaper, starting with 100-grit, in 100-grit increments up to 1500-grit. Affix the sandpaper to the orbital sander following the manufacturer's instructions.
Step 2
Start out sanding the surface of the granite with 100-grit sandpaper until a consistent, gritty, unpolished or "honed" surface is achieved. Confirm that the majority of the shininess has been removed and manually sand corners or hard-to-reach spots with individual pieces of sandpaper.
Step 3
Vacuum excess dust and sediment from the work area and surface of the granite, using a Shop-Vac. Continue sanding, this time with 200-grit sandpaper. Achieve a consistent surface sheen with the 200-grit sandpaper. Hand-sand corners and hard-to-reach areas. Vacuum up excess dust and sediment.
Step 4
Continue the sanding process with 300-grit sandpaper, moving up in grits, vacuuming between each increment. Verify that hard-to-reach areas are consistent with the rest of the work area. Determine which sandpaper grit delivers the desired honed surface final result. For instance, softer granites may require sanding up to only 800 grits, while denser granite may require up to 1500-grit sandpaper.
Step 5
Clean all dust and sediment from the surface of the granite. Apply a stone enhancer or sealant to the surface to repel staining and to bring out colors in the granite's surface. Test apply the enhancer in an inconspicuous area or on a sample piece first. Consult with a professional for the best sealer/enhancer product for your particular material.
Warning
Do not seal or enhance honed granite without first testing in an inconspicuous area. Always wear a dust mask and eye protection when sanding granite.