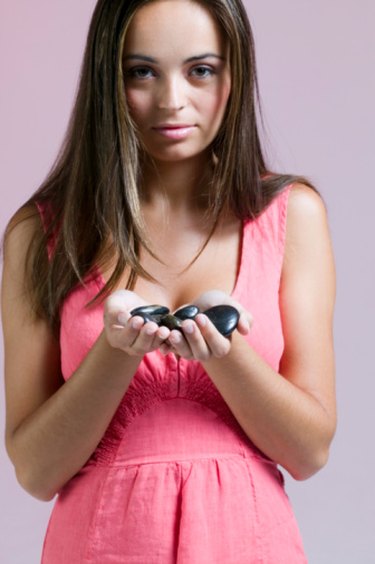 A Dremel is a type of rotary tool that has many applications around the home and in the workshop. It will accept a wide number of bits and attachments for cutting, sanding, routing, buffing and polishing. You can buff and polish stones by hand-using a Dremel tool. In order to buff stones you will need to sand them with several different sandpaper grits as well as buff and polish them with a polishing wheel. The process is labor-intensive, but the end result will be shiny polished stones.
Step 1
Place the stone on a work surface. Insert a sanding drum into the rotary tool chuck and lock it in place. Insert the 50-grit sanding drum pad over the sanding drum bit.
Step 2
Sand all sides of the stone's surface with a progression of the 50- through 1500-grit sanding drum pads. Sand at each grit until you feel that it has been smoothed out enough to proceed to the next coarseness. Over time the stone will begin to have a more smooth and progressively polished appearance.
Step 3
Remove the sanding drum bit from the rotary tool chuck and insert the buffing/polishing wheel. Lock the wheel in the rotary tool chuck.
Step 4
Apply polishing compound to the wheel and proceed to buff and polish the surface of the stone until you arrive at the desired sheen.
Step 5
Remove the oily residue left on the stone by dipping the polishing wheel into denatured alcohol and polishing the stone until it is completely free of the polishing compound.