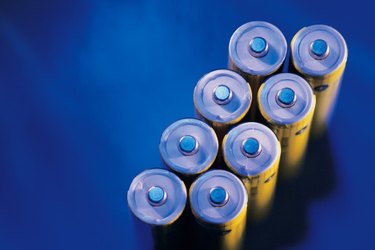 Digital Security Controls is a company that manufactures and distributes state-of-the-art security systems in 140 countries. DSC makes a number of home and business security systems that include keypads and sirens. Batteries in both these components must be changed every two years. Sirens do not sound if the battery power is low. Indicator lights on the keypad provide a warning when batteries are due for replacement.
Replace the Keypad Battery
Step 1
Check the display panel on the keypad. A flashing trouble icon -- two triangles -- indicates that battery power is low.
Step 2
Remove the keypad from the mounting bracket by sliding it up and out. Some models require that you remove screws. Remove the screws from the panel, and store in a safe place.
Step 3
Turn the keypad over, The battery bay contains four AA-batteries. Remove the spent batteries. Follow the diagram on the back of the keypad to replace the new batteries in the correct polarity orientation.
Step 4
Slide or screw the keypad back in place.
Replace Siren Batteries
Step 1
Open the front cover by pressing down on the tab. Remove the old batteries.
Step 2
Wait 30 seconds, and place the new batteries in the battery bay; use the engraved polarities as a guide. Replace the battery-bay cover.
Step 3
Test the siren by pressing and holding the test-siren button for five seconds; it is located on the front of the siren. If the siren sounds, the battery change was successful.