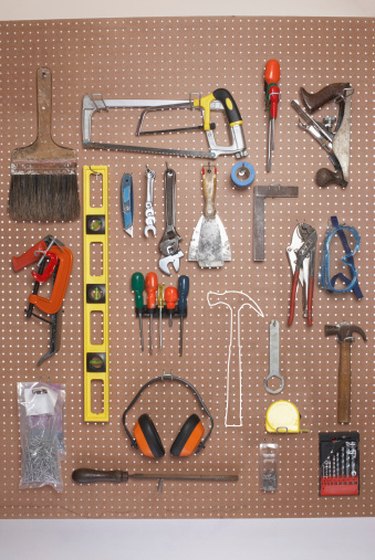 Builders use both hand saws and power saws to cut through metal materials. Builders generally choose a saw and blade type according to the composition of the metal, the size of the material and the desired characteristics of cut. For example, the blade and tool used to cut a thin piece of soft metal, such as aluminum, differs from the blade and tool used to cut a thick piece of hard metal, such as a steel alloy. Learn about the capabilities of different metal cutting saws and you can choose the type that suits your task.
Hack Saw
The hack saw is the most common hand saw used to cut metal. The hack saw's most recognizable characteristic is a rigid, C-shaped frame attached to a pistol grip handle. A thin, slightly flexible blade runs across the open portion of the hack saw's frame. The blade's teeth vary in size and spacing according to application. Small, closely spaced teeth create fine cuts, usually through soft or thin metal materials, such as copper or aluminum. Large, widely spaced teeth create coarse cuts, usually through thick or hard metal materials, such as steel or iron.
Handheld Circular Saw
A standard, motorized circular saw is capable of creating straight cuts through most types of metal. The key to using a standard circular for cutting metal is to choose the proper blade for the project. In general, circular saws accept abrasive, metal cut-off discs for metalworking projects. Unlike a toothed, woodworking blade, mineral grit, such as carbide, lines the edge of an abrasive disc.
Metal Chop Saw
Like a woodworkers miter saw, the metal chop saw's blade lowers through material resting on a stationary base. However, manufacturers design metal chop saws specifically to withstand the heat, sparks and flying metal that results from cutting large metal stock. Notably, woodworking miter saw manufacturers do not recommend that workers attach metal cut-off blades to woodworking equipment. In operation and appearance, metal chop saws resemble their woodworking counterparts. To use a metal chop saw, the metalworker places metal material on the base beneath the blade, activates the blade and lowers the blade through the material.
Grinder
The unique position of the grinder's blade distinguishes it from other types of portable power saws. Rather than sitting perpendicular to the tool's motor assembly like a portable circular saw, the grinder's blade sits on a parallel plane relative to its motor assembly. This unique arrangement lets metalworkers cut with pressing force and broad, sweeping motions. Like cut-off saws and portable circular saws, grinders spin abrasive, circular discs. Grinder discs range in diameter from a few inches to a over a foot.