Things You'll Need
Sand

Cement

Water

Hydrated lime

Aggragate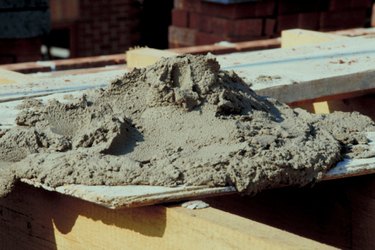 Portland cement is made up of a number of compounds, but primarily consists of limestone and clay. It can be mixed with water, sand and other materials for use in building and sculpting projects. Portland cement is so named because the color of the cement is akin to the limestone from the Isle of Portland in the English Channel.
Step 1
Mix mortar for laying flagstones, flooring, bricks and tiles. Use a ratio of 3 parts sand to 1.5 parts cement. Adding hydrated lime to the mixture will reduce shrinkage cracks. It will also make the mortar more waterproof. If you add lime, the mixture will be 15 gallons of sand, 6.38 gallons of cement and 1.12 gallons of lime. Mix the ingredients together before adding water.
Step 2
Mix concrete by using 1 part cement to 2.5 parts sand. Add 0.5 part water and the appropriate amount of wet aggregate. The amount of aggregate will vary according to its size. See the table in the resources section which indicates the amount of aggregate you will need to add to your concrete mixture.
Step 3
Use Portland Cement to create beautiful sculptures. The best ratio is 1 part silica sand to 2 parts cement, 1 part latex, a small amount of microfibers and 4 parts water. This will give you a mixture that is the consistency of clay.
Tip
Only mix as much as you can use in two hours. Do not add water to the mixture if it starts to get hard.