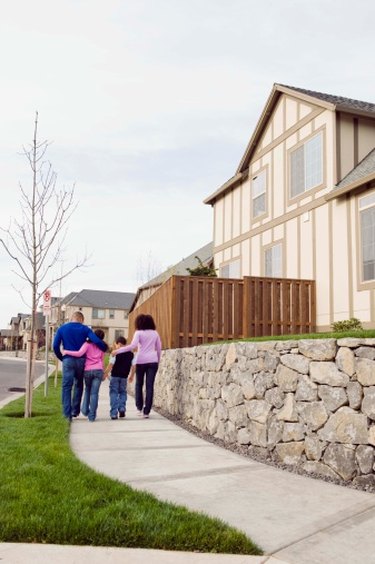 If your driveway or walkway is marred by unsightly stains from colored mulch, you may find yourself scrambling to find an effective way to remove the blemishes. Colored mulch is dyed to its shade during processing, and unlike regular mulch, it won't turn to grey after just a couple months. One unfortunate side effect of colored mulch is that it can rub off on hands, clothes and pavement. A simple solution can remove mulch die from concrete surfaces.
Step 1
Wash away the stained surface with water. Use a fine misty spray to wash the concrete, as high water pressure can drive the stain deeper into the concrete.
Step 2
Apply vinegar or soap onto the concrete surface. Scrub the soap into the concrete using a brush. Scrub the soap using small circular motions.
Step 3
Apply a fine mist of water to wash the soap and dye away. If the stain still persists, continue on to Step 4.
Step 4
Mix two cap-fulls of bleach into 2 gallons of warm water. Scrub the bleach into the mulch stain with a brush, using small circular motion. Completely cover the mulch stain with the bleach solution. Allow the solution to sit on the concrete for 30 minutes.
Step 5
Wash away the bleach solution, using a fine mist of water.