Things You'll Need
3/8-inch masonry drill bit

Hammer drill

Vacuum

Hammer

3/8-inch wrench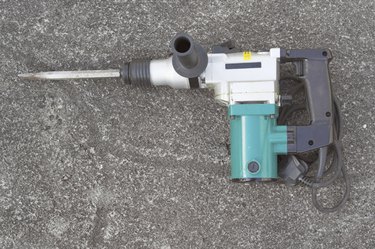 Use wedge anchors to fasten studs to concrete. Wedge anchors are fasteners that rely on expanding sleeves to anchor two-by-fours permanently. Begin by drilling holes in the concrete with a hammer drill. Once you've drilled the holes, you'll need only a hammer and a wrench to install the wedge anchors. For interior use where no moisture is present, zinc anchors are appropriate. If moisture will be present, galvanized or stainless-steel anchors are the way to go.
Step 1
Place the two-by-four in its desired location. Insert a 3/8-inch masonry drill bit into a hammer drill. Mark the location for the anchor centered on the two-by-four stud. Drill through the stud to make a divot on the concrete. Remove the stud.
Step 2
Place a piece of tape on the shaft of the drill bit , 1 1/2 inches or more up from the tip of the drill bit,to help you ensure you've drilled deep enough. Drill a hole in the concrete at the divot until the tape reaches the surface of the concrete.
Step 3
Clean the debris and dust from the hole with a vacuum. Place the washer and nut on the anchor. Thread the nut just enough to ensure it stays on the end of the anchor.
Step 4
Place the stud over the hole, aligning the hole in the stud with the hole in the concrete. Insert the anchor with the nut on the end into the hole in the stud.
Step 5
Tap the anchor down with a hammer, into the hole, to flush the washer with the stud. Use a 3/8-inch wrench to tighten the head of the anchor until it's snug or hand tight, then tighten it another three to five turns to add torque.
Tip
If you're unsure about what length of anchors to use, determine with this formula: material thickness plus thickness of nut -- the head of the bolt -- plus thickness of washer plus minimum embedment depth. Consult the packaging for your anchors. Depending on your intended use, factors such as shear, required torque, length, diameter and anchor spacing come into play.
As an option, you can use a regular drill/driver to drill into concrete instead of a hammer drill, typically if the concrete is less than 5 years old. It will take longer than with a hammer drill, but it's doable.
Concrete hardens as it ages.
Concrete anchors have different configurations. Some have plastic ends or inserts. The principal for installation, though, is similar on all of them.
Warning
Don't install concrete anchors less than 1 1/2 inches from any edge or corner. Doing so could result in failure of the anchor.
Wear safety glasses when working with concrete anchors.