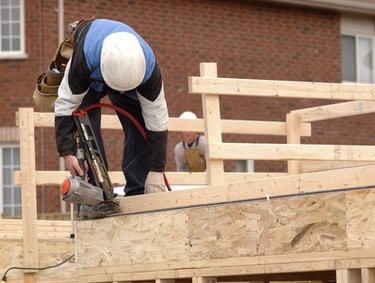 Bostitch makes a few models of 18-gauge brad nailers to suit your individual needs. Recommended air pressure on these models ranges from 60-120 pounds per square inch (psi). The air pressure leading to the gun from the air compressor should be adjusted to penetrate the thickness and density of the material being nailed. Thinner, lighter materials should have lower pressure while items such as thick, hardwood boards need a higher pressure.
BT35B-1
If you have the BT35B-1, this plastic 18-gauge Bostitch brad nailer is made to operate on air pressure ranging from 60-100 psi. This model cannot shoot the longer brads like the others. It will only accommodate brads as long as 35 mm. Use it on lower pressure and adjust upwards accordingly.
SB 2IN1
For those with a model SB 2IN1 Bostitch brad nailer, this air-powered unit operates with air pressure between 75-100 psi. It is a combination brad nailer and stapler made to shoot either fastener. It accommodates brads up to 40 mm in length and staples 5.6 mm in width and 35 mm long.
BT50B-1
The model BT50B-1 Bostitch brad nailer operates on the same pressure as the BT35B-1 at 60-100 psi. It will take 18-gauge brads up to 50 mm long. Air pressure is again adjusted at the air gun as needed for the project.
BT1855-E
The BT1855-E is the big boy of the Bostitch 18-gauge brad nailers. This larger gun is operated on air pressure ranging from 70-120 psi and accommodates brad nails up to 55mm long. This is made for bigger projects and will need the air pressure regulator adjusted for whatever your project entails.
---
Billy Ray has been writing since 1994. He writes a popular featured column on the sports Web site Bleacher Report and has been licensed in loan origination and real estate. He is an EPA-certified Lead-based-paint renovator. Billy has taken courses in real estate, commercial lending and home renovation in addition to college courses in writing at Southern Oregon State University.