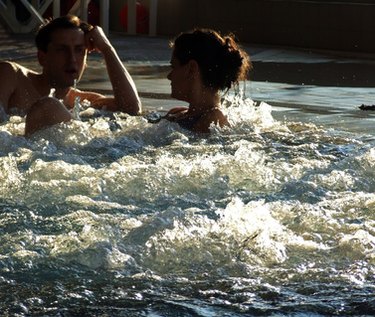 Baking soda can be quite helpful to homeowners who have hot tubs, as it can assist them in keeping the pH level of the water in the proper zone. As many homeowners know, the ideal pH for a hot tub or pool should be between 7.2 and 7.8. If the water is too acidic, it's going to quickly to wear out the heater element. Baking soda can raise the alkalinity of the water and bring your pH back up to an appropriate level.
Step 1
Measure 1 oz. of baking soda. Walk around the hot tub, sprinkling in the baking soda. Allow the water to sit for two to three hours.
Step 2
Turn on the jets for about 20 minutes. Take a pH test strip and dip it into the water for several seconds. Remove the test strip and place it on a flat surface. Wait 10 seconds.
Step 3
Compare the test strip to the guide in or on the box that the strips came in. This will indicate the pH level of the water. If the pH level is below 7.2, add another 1 oz. of baking soda to the water, and retest it after a few hours.