Silicone caulk is often used to seal joints and cracks in the home. Showers, sinks, tubs, windows and floors are common locations for this sort of sealant. Although silicone caulk is typically quite effective, some homeowners find that their caulk won't dry properly and subsequently does not provide a tight seal. Wet caulk will not seal a joint or crack properly, and it can easily wash or wipe away. If not properly installed, caulk should be removed and replaced. Homeowners can encourage their caulk to dry by taking a few precautions before applying the caulk and by doing so under the appropriate conditions.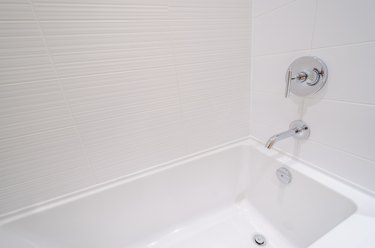 Prepare the Area
Remove any existing caulk before you apply new caulk. Old caulk can interfere with the new caulk's ability to adhere to the material on which it is applied. Use a razor knife to cut off the existing caulk, but take care not to damage the tub or other surface with the knife. Wipe away chips of caulk with a damp cloth, and be sure to let the area dry.
To further cleanse the area before applying new caulk, dip an abrasive sponge or pad into mineral spirits. Rub the sponge on the caulked area to remove the silicone residue. Failure to do so can prevent the new caulk from adhering properly.
Rinse the area with water and use a lint-free cloth to dry. Hold a hair dryer or heat gun to the area as well to ensure that no moisture remains. The area must be completely dry or the new caulk won't adhere. If possible, wait for one to two days in between preparing the area and re-caulking to be sure the surface has dried. Undertaking your repairs in warmer weather can help expedite the drying process.
Apply New Caulk
Apply the new silicone caulk in the correct weather conditions. Silicone caulk dries, or cures, faster when the humidity and the temperature are both high. On cool and dry days, caulk will not dry as quickly or as well. Endeavor to undertake your caulking project on a hot and humid day, if at all possible.
Silicone caulk typically takes about 24 hours to fully dry and harden; however, it can take longer depending on the weather and environmental conditions. Carefully read the instructions on the package of caulk you have purchased to ensure you follow them properly. Some varieties of caulk do suggest shorter dry times, but allowing at least a day is a good rule of thumb.