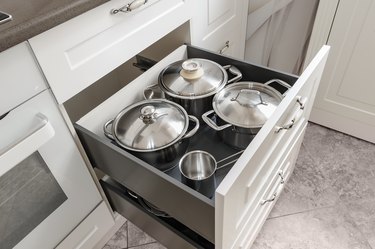 The term housewares encompasses an array of items that outfit a home. Some of these items may be essential, such as cooking utensils in the kitchen, while others are more decorative in nature such as fancy window treatments and wall hangings. The purchase of housewares for a home can be a never-ending process as new appliances and gadgets are introduced to the market every day. Housewares found in and around the home will vary depending on the style and budget of the homeowner, and are offered in a wide variety of looks, price points and degrees of functionality, providing something for everyone.
Housewares for the Kitchen
Housewares are essential to run a kitchen, and include smaller items that aren't considered large appliances like fridges and stoves. Pots and pans, along with dishes, like plates, bowls and cups, and flatware are necessary basics for cooking and serving food. Housewares also encompass small appliances, from the coffee pot, toaster, microwave and can opener to wish-list items such as waffle makers, coffee grinders, crock pots and bread makers. Any functioning kitchen also relies on a good set of cooking utensils including spatulas, slotted and serving spoons, potato mashers, peelers and a good set of prep and carving knives.
Houseware Staples for Dining Rooms
Housewares in the dining room are most often associated with table settings, including place mats, linen napkins and decorative napkin rings, although many of the houseware items you might find in the dining room are optional, especially when compared to a kitchen or bathroom. Serving platters and bowls are available in a wide range of colors, sizes and styles and can be coordinated with your dishes or china. Glassware is an important element in dining room housewares and run the gamut of water, wine and assorted bar glasses. Table centerpiece items also fall into this category, including candle sticks and vases.
Bathroom housewares can be as basic or elaborate as your design wishes allow, with most people opting for functionality, as the bathroom tends to be a smaller space than other common rooms in the home. Software essentials include towels in various sizes such as wash cloths, hand towels and bath sheets. Shower curtains and liners also fall into this category, along with shower caddies, soap dishes and shower mirrors.
Small appliances in the bathroom might include electric toothbrushes, hair dryers, digital scales and a waterproof radio. Toothbrush holders, facial tissue box covers and liquid soap pumps can all be color-coordinated to decorate the bathroom along with rugs, bath mats and toilet-tank covers.
Bedroom houseware basics include sheets, pillow cases and blankets or quilts for the bed. Additional bedding items might include bed skirts, duvet covers, mattress pads, heated blankets and an assortment of decorative throw pillows, all of which are popular picks among consumers. Curtains, blinds or other window coverings are also considered housewares, along with mirrors, pictures and other wall hangings. Bedroom closets may be outfitted with storage and space-saving housewares such as shoe racks, shelves and stacking containers.
Smaller items, such as jewelry boxes, clocks, candles, lamps, vases and picture frames add convenience as well as decoration to the bedroom. Area rugs and throw rugs are also commonly found in bedrooms to offer an additional element of design, comfort and warmth, although rugs are not an uncommon piece to find in just about any room throughout the home.