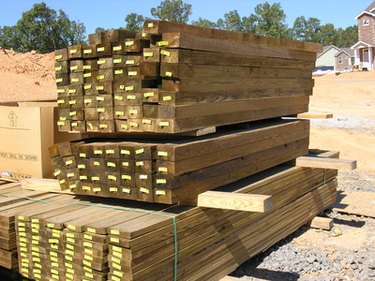 Controversy over the dangers of using pressure-treated lumber caused some people to abandon use of the products and companies to change the products used to treat lumber. Some people apply waterproofing sealer to standard lumber instead of using treated lumber products.
ACQ-Treated Lumber
Alkaline copper quaternary (ACQ) is the chemical used to treat lumber sold in home centers and lumber yards for residential use. ACQ treated lumber replaced chromated copper arsenate (CCA)-treated lumber which contained arsenic. Treated lumber protects against insect damage and rotting.
Waterproofed Lumber
Applying a sealer that waterproofs the lumber causes it to shed water. Wood remains dry which helps prevent rotting. The responsibility for applying waterproofing rests with the property owner and requires yearly or semi-yearly application.
Waterproof Vs. Treated
Treated lumber warranties assure the wood won't rot for up to a lifetime, even when in contact with the ground. Waterproofing sealer applications last up to two years depending on the use. Some states have banned specific types of sealers, but none have banned treated lumber. Independent tests indicate both products are relatively safe if used properly.
Ground Contact
For applications where the lumber is in constant contact with the ground, treated lumber will not rot and can stay in the ground for many years. Waterproofed lumber put in the ground will eventually rot, even if the wood is naturally rot-resistant.
---
Michael Logan is a writer, editor and web page designer. His professional background includes electrical, computer and test engineering, real estate investment, network engineering and management, programming and remodeling company owner. Logan has been writing professionally since he was first published in "Test & Measurement World" in 1989.