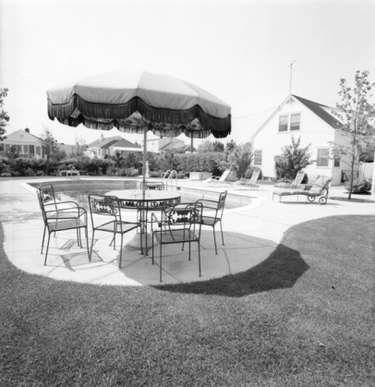 Green scum on your patio umbrella could be caused by mildew, mold, algae or a combination of all three. This scum can discolor the umbrella as well as cause a nasty, unwanted odor. Household cleaners may temporarily remove the problem, but the green film is likely to return to the umbrella. A homemade cleaner that includes a common household liquid eliminates the scum and prevents its return to the patio umbrella.
Step 1
Mix 2 cups of undiluted white vinegar, 4 cups of hot water and 2 tbsp. of non-bleach dish soap inside of the bucket or sink.
Step 2
Open the patio umbrella fully.
Step 3
Saturate the bristles of the brush thoroughly in the cleaning solution.
Step 4
Scrub areas of the patio umbrella covered in the green scum. According to Reader's Digest, scrubbing other areas of the umbrella will prevent such growths. Use a clean brush (one not used to remove green scum) to scrub the rest of the umbrella.
Step 5
Repeat steps 3 and 4 until you've finished cleaning the umbrella. Leave the umbrella opened in a sunny portion of your yard or patio until it has fully dried.