Things You'll Need
Electrical meter box

Cordless drill

Allen key or wrench

Hummer

Screws and fittings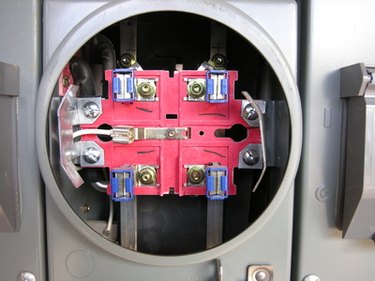 Electrical meter boxes can be installed outdoors or indoors. Before starting the installation there are some steps that have to be followed. The NEC, or National Electric Code, specifies that any electrical installation must comply with the residential code of the state where the installation is taking place. Any electrical installation involving the service entrance must comply with the local utility company's requirements. A building permit from a local municipality may need to be obtained. In addition, the meter box has to be secured properly to the wall. All metallic meter boxes must be grounded.
Step 1
Determine the location for the electrical meter box, as well as the height of the box. The metallic box has to be weather-proof if installed outdoors. The meter box can't be less than 4 feet high or higher than 6 feet high from floor level. The recommended height of the meter box is 5 feet.
Step 2
Open a knock out on top of the meter box to fit the riser pole width. Insert the meter box into the riser pipe, then secure it with a connector and a locknut of the same size as the pipe used. Secure the box to the wall according to manufacturer recommendations. There are four screws on each of the box's corners. Use the electrical drill to secure the box to the wall.
Step 3
Open another knock out at the bottom of the meter box. This will carry the wires going to the service panel. Secure the pipe with a connector and a lock nut that fits the pipe. Now the electrical meter box installation is complete. Cover the box and and request inspection from the local utility company.