Bunn coffee machines are an excellent choice for coffee lovers of all walks of life. They're affordable, easy to use and versatile enough to satisfy all kinds of morning caffeine needs. Learn how to set up your Bunn coffee machine and troubleshoot it so making your morning coffee is a breeze.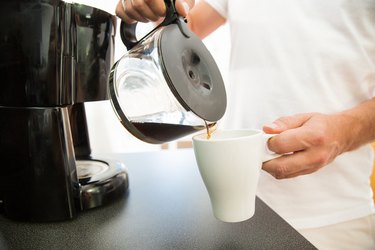 Set Up
Before you can enjoy your new Bunn coffee maker, you need to set it up. To do that, you'll need to fill the hot water tank with two full carafes of cold water. Importantly, Bunn manuals warn not to plug in your machine until you go through this entire set up process. Plugging it in before that might damage it permanently.
First, gently slide the empty funnel into the brewer. Second, fill the carafe with cold water, pour it into the brewer and reposition the carafe on the warmer plate with the lid closed. Wait three minutes, then fill the carafe with cold water again and repeat the process. Wait until all of the water flows into the carafe, pour it out and reposition on the warmer plate.
Now you're ready to plug it in. Turn on your Bunn coffee maker by pressing the switch to the "on" position, and wait 15 minutes for the water to warm up. You only have to do this during the setup. Keep your coffee maker on if you're using it regularly, but switch it off if you're planning to be away from it for an extended period of time.
Troubleshooting Tips
If your coffee doesn't come out or is dripping out too slowly, check the sprayhead and make sure its holes aren't clogged. If necessary, go through the setup process again.
If your machine is serving you cold coffee, make sure it's plugged in, turn the switch on and allow 15 minutes for the water to heat up.
If you make decaf, fine grind or use soft water, you may need to use a special flow restrictor sprayhead, which can be ordered from Bunn, to prevent the funnel from overflowing.
If your coffee is too weak or too bitter, you can control the taste by adjusting the ratio of coffee to water (e.g. for a fuller flavor use more coffee and less water). You can also try experimenting with brands, mixes and types of coffee as well as the size of the coffee grind (too fine a grind may make the coffee too bitter and too coarse will make it too weak), until you finally get that perfect cup.