Things You'll Need
Cloth

White distilled vinegar

Non-abrasive pad

Mild detergent

1 cup water

1 cup chlorine bleach

Dry cloth

Mask

Gloves

Stiff brush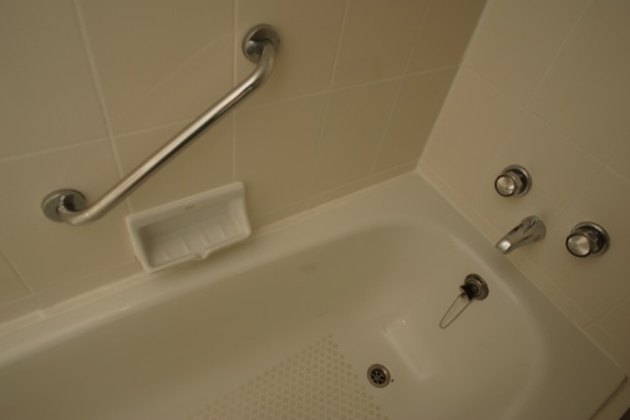 An acrylic plastic bathtub has a dull appearance if it becomes dirty, but you can clean it and restore its shine. Soap scum and mineral deposits cover the surface of the bathtub and walls after repeated use. The resulting buildup creates a scaly film. Clean the tub and walls thoroughly to remove the buildup and restore its original brilliance. Clean the bathtub on a regular basis to maintain its shine.
Step 1
Wipe all surfaces of the bathtub and walls with a cloth soaked in white distilled vinegar.
Step 2
Scrub the walls and the tub with a non-abrasive pad and mild detergent. Do not use abrasive pads or cleaners. If the surface is scratched, it will become marred and dull.
Step 3
Apply vinegar to stubborn soap scum or rings directly. Allow it to sit for two to three minutes, then scrub the area with a cloth or non-abrasive pad.
Step 4
Mix 1 cup water and 1 cup chlorine bleach to kill mold. Dip a dry cloth in the mixture and pat it on areas where mold is present. If heavy mold is present, dampen the mold with water to prevent it from becoming airborne during cleaning. Wear a mask and gloves and remove mold with a stiff brush. Apply bleach to the areas where mold is removed.
Step 5
Rinse the bathtub thoroughly. Rinse the tub and walls daily, and clean it at least once a week to prevent heavy soap scum buildup.
---
Amy Kingston has been a professional writer since 2001. She has written articles for various publications, including "Health" magazine, "Jackson Parenting" magazine, the "Bolivar Bulletin" newspaper and "A Musician's Pursuit." Kingston was also published in "Voices of Bipolar Disorder."