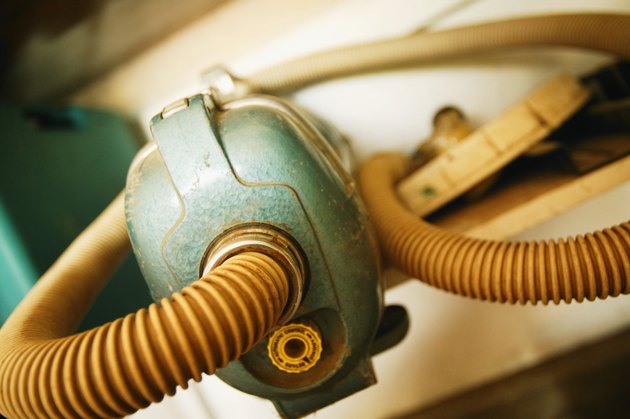 Disposing of a well-used vacuum cleaner may be easy as putting it out with the trash or loading it into your car and hauling it to a recycling center or charity. Unlike computers, televisions and other electronics, vacuum cleaners are mostly metal and plastic, so their materials are nearly 100 percent recyclable.
Out With the Old
Depending on your local waste management agency or garbage company's regulations, a broken vacuum cleaner may be set next to the garbage can with a sign saying "trash" or "free/works." It's best to set out the trash and the vacuum cleaner as early as possible the day before pickup. This almost guarantees that the vacuum cleaner disappears within hours, picked up by a metal collector or neighbor who can fix it.
Drop It Off
The local waste management agency may provide a drop-off location for appliances and electronics, including vacuum cleaners. With proof of residence, you can drop the vacuum cleaner off for recycling or disposal. It may be free, or there may be a small charge. If the vacuum cleaner still runs, though, the nearest thrift store is usually happy to take it off your hands and give you a receipt for a charitable donation.
Dumpster Day, Giveaway or Sell
Community groups may have additional ways of disposing of vacuums. Dumpsters bought into urban neighborhoods encourage the disposal of nonworking appliances, including vacuums. You can also list a vacuum online for free, noting whether it works or not. A valuable vintage vacuum may be worth selling online, in total or for parts.
---

Ruth de Jauregui
With degrees in fine and commercial art and Spanish, Ruth de Jauregui is an old-school graphic artist, book designer and published author. De Jauregui authored 50 Fabulous Tomatoes for Your Garden, available as an ebook. She enthusiastically pursues creative and community interests, including gardening, home improvement and social issues.