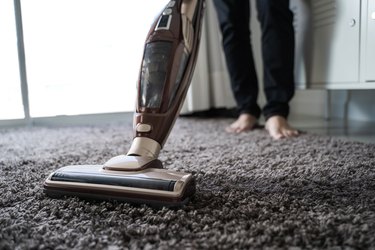 Vacuum cleaners would be a top ten contender if there were a Hall of Fame for home appliances. Although vacuum cleaners can last for what seems like a lifetime, there will come a day when yours will stop working, so considering a recycling center like Best Buy recycling is a good option. It may be tempting to place your unwanted appliance on the curb, but think of how much you'd be helping the environment by vacuum recycling instead.
Different Types of Vacuum Cleaners
According to Recycle Nation, there are four different types of vacuum cleaners: upright, stick, canister and handheld. Upright vacuum cleaners stand upright and have a tall profile. These vacuum cleaners have a large bag or a canister that captures the dirt while you're vacuuming. According to Recycle Nation, this type of vacuum cleaner is the most popular model, and you'll find it in many homes.
A different kind of vacuum model is the stick vacuum cleaner. Stick vacuum cleaners have long handles and a small bag or canister attached to the cleaner. These models are used to vacuum area rugs or hard floors, not carpets. If you have carpet and hardwood floors, you'll probably own or want to purchase a canister vacuum cleaner.
Canister vacuum cleaners sit on the floor and collect dirt while a long wand with different attachments vacuums the floor. Lastly, there are handheld vacuum cleaners. Handheld vacuum cleaners are used to clean counters, cars or small spaces.
Why You Should Recycle
Although vacuum cleaners are a convenient product to own and operate, when they eventually stop working, they can be a tad difficult to recycle. The reason being is that most vacuum cleaners are made out of plastic. According to Recycle Nation, a vacuum cleaner's body is almost entirely made from plastic as well as the hose and other parts of the cleaner.
The rigid plastics that are used to make vacuum cleaners durable can make vacuum recycling a bit tough. That's why many companies are coming up with plastic recycling programs, just like the Best Buy recycling program. These recycling programs and recycling center locations help customers recycle their cleaners in an eco-friendly and convenient way.
Vacuum Recycling Tips
If you're looking to recycle your vacuum cleaner, Best Buy recycling is one of your best options. According to Best Buy, they are the nation's largest retail recycler of used electronics and appliances. They recycle many different types of used tech and home appliances no matter where you purchased it, how old the appliance is or who made it. If you need to recycle something and you're not sure they'll take it, they have a list of products that they will and will not recycle.
The best part is that they will recycle your products in the Best Buy recycling center for free. They recycle broom/stick vacuums, robot vacuums and upright/canister vacuums. There is a limit, though, so you can only recycle three items per household per day.
Best Buy recycling is super easy. All you have to do is drop off your old appliances at the recycling kiosks in any Best Buy store or at the customer service counter. You can also schedule a Best Buy haul-away or make a trade-in.
Repair and Reuse
If your vacuum cleaner still works and you're just upgrading, you can still donate your vacuum cleaner to a local Goodwill, Salvation Army or local charity. If it's in excellent condition, you can also donate it to a church, school or daycare. Many local institutions will benefit from not having to purchase this type of appliance.
---
Allanah Dykes is a freelance writer and her work has been featured on Elite Daily, Levo League, Popsugar, Complex, Gurl, The Kitchn, HelloGiggles, Revelist, and Food 52.