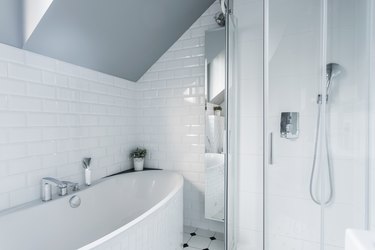 Old, antique porcelain bathtubs are highly coveted and can be a real feature in any bathroom. They're often seen as a more luxurious option than the cheaper acrylic tubs that are prevalent today. But these porcelain tubs tend to actually be composed of a thin layer of ceramic over a larger metal structure.
Over time, this more delicate topcoat can become worn out and dull. This can give your bathtub a dirty and uninviting appearance and negate the wow factor of an antique porcelain tub. Luckily, there are many methods to help make a full porcelain bathtub shine once more.
Cleaning a Porcelain Bathtub
The first step to restoring shine to a dull porcelain tub is a thorough cleaning. Signature Hardware recommends using simple dish soap and a nonabrasive cloth to remove any surface-level dirt or grime. It's absolutely essential to check your products before using them on something like a porcelain bathtub. Anything overly harsh or abrasive could end up causing lasting damage to your bath's delicate surface.
If you want to try a more intense cleanse without risk of damage, Eager Beaver recommends making a natural porcelain tub cleaner at home. Mix 1/4 cup white vinegar with 1 tablespoon of baking soda in about a liter of hot water and use this on terry cloth to wash out your tub. You can add some essential oils for a boost of fragrance too.
Removing Stains From Porcelain
Once you're sure your porcelain bathtub is as clean as possible, you can inspect your tub for anymore stubborn stains. These will need to be treated separately in order to lift them without causing any damage to the porcelain. Plumbworld recommends creating a stain remover using half of a grapefruit and some table salt. You can sprinkle the salt on your grapefruit half and then use it to scrub at any areas of persistent staining.
Another great method for lifting stains from porcelain is by using a combination of baking soda and hydrogen peroxide. ​Reader's Digest​ recommends you create a paste out of these two ingredients and then apply it to any stubborn areas of your porcelain tub. Allow the paste to dry for around half an hour. Then rinse it away to reveal a stainless surface.
Making a Porcelain Tub Shine
After cleaning and removing stains from your porcelain tub, you can work on restoring that lustrous shine porcelain is famous for. One useful tip is to never allow your porcelain tub to air-dry after cleaning. It must be thoroughly dried off using a towel to help prevent any potential water spots or mineral deposit marks, which would render your cleaning process pointless.
The first step to create extra shine is to buff the surface using a soft rag, towel or an electric buffer on the lowest setting to get it as smooth as possible, as recommended by Topkote. To achieve even more shine, you can finish with a thin layer of car wax over the tub's surface.
It's important to note that wax can make a bathtub feel very slippery, so is not recommended for baths with an overhead shower, as it could pose a safety risk. You should never apply wax to the bottom of the tub, either.