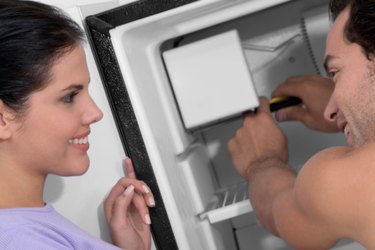 Many models of Whirlpool refrigerators have an ice and water dispenser built into the outside of the refrigerator or freezer door. The ice and water dispenser allows you to fill a glass with ice or water without opening the door. The dispenser is secured to the refrigerator door with eight screws that are covered with a piece of plastic trim. If you need to remove on the ice and water dispenser, you must first remove the plastic trim hiding the screws.
Step 1
Locate the slot on the bottom of the plastic trim, located on either the left or right side.
Step 2
Insert the flat-head screwdriver or butter knife into the slot.
Step 3
Pry the corner of the plastic trim off of the front of the refrigerator, being careful not to break the plastic trim.
Step 4
Continue to gently pry the plastic trim, working around the ice dispenser until the trim is separated from the refrigerator.
Step 5
Remove the cables connected to the rear of the control panel to completely remove the trim.