Things You'll Need
Flat-head screwdriver

Channel locks or pentagonal wrench

Flashlight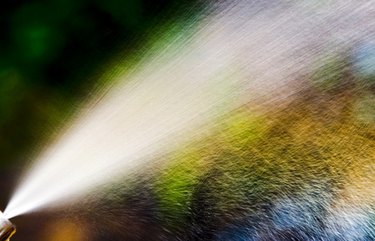 The water valve is inside a box buried in your yard or near your home. You need to know where to find the valve box and how to open the cover to gain access to the water valve. Repairs and maintenance that may need to be done in your valve box include replacing the valve, turning the water on and off, and replacing any parts that may have been damaged. Check with city officials, however, to make sure you are allowed to work on the water cutoff valve.
Step 1
Locate your home's water valve. It will usually be at the edge of your yard near the street or alley.
Step 2
Remove the nut locking down the main cutoff valve cover if necessary. Many covers are attached with a five-sided nut, so you will need to use channel locks or a pentagonal wrench to remove it.
Step 3
Put one hand on the cover and the other hand on the valve box and try to separate them. If you cannot pry up the cover, slide a flat-head screwdriver between the cover and valve box and try to pry it open.
Step 4
Turn on the flashlight and clear cobwebs with your screwdriver or channel locks.
Step 5
Turn the valve clockwise to shut off the water. Do not force it. If you can't turn the valve, call your local public works department for help.
Tip
The channel locks also can be used to turn the water on or off at the valve.
Warning
Make sure there are no spiders or other dangerous insects inside the valve box before reaching inside.
If you do not live in a single-family home, talk to your landlord before starting this task.
---
Sarah Davis has been a culinologist since 1998. She has worked in the offices and labs of Burger King, Tyson Foods and Cargill developing and writing recipes. She currently owns WISH Events in Atlanta. She and her husband also buy homes to rejuvenate and resell. She holds degrees from Johnson and Wales University in culinary arts and the University of Georgia in food science.