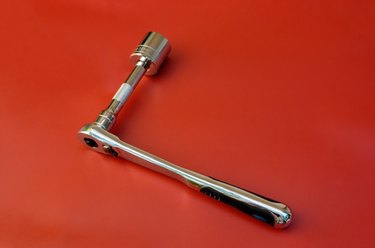 Sears Corporation makes and sells Craftsman tools. Each tool carries a lifetime warranty. You can get a replacement tool free of charge if it breaks or fails for any reason. If you have a Craftsman ratchet that needs replacement, you can start the replacement process at your local Sears store, or Sears online.
Step 1
Use the store locator on the Sears website to locate your nearest Sears store. The store locator is on the Sears homepage on the top menu bar. Enter your zip code or city and state to see a list of the stores closest to you. Sears operates department stores as well as tool and hardware outlets in most towns and cities. If you don't have a Sears location within driving distance, you can ship your ratchet to the Craftsman Warranty Department.
Step 2
Take your Craftsman ratchet and receipt or other proof of purchase to your nearest Sears store. If you don't live near a Sears store, call the Craftsman Warranty Department at 800-469-4663 to arrange for repair or replacement of your ratchet.
Step 3
Tell a Sears associate that you are returning your Craftsman ratchet and need a repair or replacement under the lifetime warranty coverage.
Step 4
Receive a replacement Craftsman ratchet or ratchet repair kit from Sears. Ratchets and repair kits are almost always in stock, so you will get a replacement or repair kit on the spot. If you don't live near a Sears location, the Craftsman Warranty Department will ship a replacement or repair kit to you.