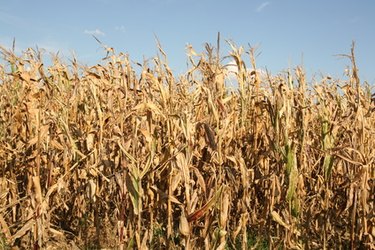 Combines are harvesting machines that combine three steps into one: reaping, binding and threshing. The John Deere company began producing the 9500 Combine in 1989 as part of its Maximizer series. This model of combine was intended for corn and bean harvesting, but could be fitted with attachments for harvesting of other crops, such as barley and wheat. Production of this model ended after 1997.
Engine and Transmission
The John Deere 9500 model is equipped with a six-cylinder diesel engine that is turbo charged and capable of 190 horsepower. John Deere increased the horsepower to 200 for the 1990 model year. In 1991, engine power was again increased and available at two levels: 215 horsepower for small grain harvesting and 235 horsepower for harvesting of larger crops, such as corn and rice. A three-speed, hydrostatic transmission is standard for all model years.
Harvesting Components
The 9500 combine comes standard with a 14-foot pickup header, as well as a 14-foot belt pickup with three rollers. A straw chopper with adjustable knife is a standard feature found on the 9500. The capacity of the grain tank is 197 Imperial bushels, with an unloading time of 92 seconds.
Cab
The cab of the John Deere 9500 is located at the front, in the center of the machine, and is pressurized to prevent dust inhalation by the operator. Instrument panels are located above the windshield and in a pillar at the front and right of the cab. Controls can be found beside the armrest, on the steering column, in a panel overhead and at the left of the back rest for the seat.
Tires
Standard tires for the 9500 combine measure 24.5 by 32 inches for the front and 11.0 by 24.5 inches for the back of the machine. Front tires are 12-ply, while back tires have an 8-ply measurement.