Things You'll Need
Roof panels

Screws

Circular or table saw

Power drill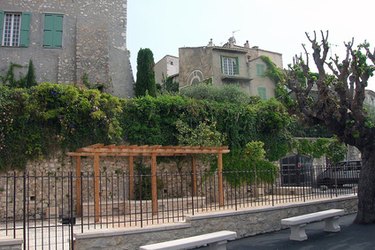 Pergolas are good outdoor structures, but because of the lattice roof, they offer little cover from rain, sunlight and other weather elements. Adding a roof to a pergola is doable without too much difficulty. With so many options for a roof available, the most challenging part could be choosing the material that is best for the space and use.
Step 1
Choose the material of the roof panels. A variety of options are available including PVC, wood, fiberglass and polycarbonate.
Step 2
Measure the square footage of the pergola top. Purchase enough roof panels to cover the area.
Step 3
Cut the panels to the pergola's length. Add 3 inches on the top and bottom to allow for a slight overhang.
Step 4
Attach the panels one at a time using screws. Start on the left side and work your way across the roof. By doing so, it will ensure that the panels line up. The panels should overlap each other slightly.
Warning
Check with the local city's codes department before adding the roof. The addition of the roof might turn the pergola into a porch, and therefore you could owe more property taxes to the city or county. Make sure the screws are not too long because they could come through the beams. Fiberglass panels will break in hail storms.