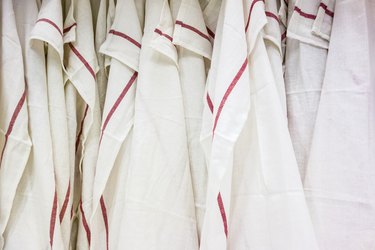 Although it's lightweight, durable and elegant, linen has a tendency to wrinkle easily, especially when it's new. Gently used linen feels soft and supple, while newer linen may feel stiff and harsh. Time, wear and repeated washing soften linen, but you can speed the softening process without damaging the fabric. The results depend on how the linen fabric was originally manufactured.
Start by Washing
Sometimes the stiffness of new linen is caused by a fabric treatment used in its manufacture to help create a smooth, crisp look.Before laundering your linen, always check the manufacturer's suggestions for care. Most linen is best washed in cool to cold water in the gentle cycle and dried on low heat. If your linen has been prewashed and preshrunk, you may be able to dry it on a higher heat setting. Start by laundering your linen, then tossing it in the dryer on low, or drip-drying it on a line. Remove linen items while they are still slightly damp to avoid setting in wrinkles and increasing the stiff feeling.
Getting More Vigorous
If laundering alone doesn't soften your linen, it's likely that the cause of the stiffness is in the weave itself. To soften the fabric, break the material down a little bit, but do so gently. Wash the linen either on a regular setting in your machine or by hand. For a more vigorous agitation during the wash, add terrycloth towels to the machine to help increase friction. If you're washing by hand, rub the fabric together vigorously; follow the usual method of drying. Repeatedly washing your linen helps speed the process of softening the fabric.
Additives to Help Soften
Traditional fabric softeners may not work well on linen fabric; plus, they may add a chemical residue or a scent that you don't want. They can also make linen dishtowels less absorbent and effective for drying dishes. Opt for a natural fabric softening method by adding a solution of 1/2 cup of baking soda or 1 cup of vinegar to the wash. You can soak the linen overnight in a stronger solution of 1 cup of vinegar to 1 gallon of water before washing. Use dryer balls during the drying cycle, because once again, you're trying to increase friction.
Other Tips
Iron your linen on high heat while the fabric is still damp. Use a press cloth if necessary, and avoid using a finishing spray. Ironing, whether or not the linen needs it, helps soften the fabric more quickly. When you line-dry linen, place it outside in a good breeze, or if you're hanging it indoors, direct a fan at the fabric as it dries. Keeping it moving during the drying process helps reduce the stiff feeling of line-dried fabric.