Things You'll Need
Soapy water (dish washing detergent and water mix)

Propane tank appropriately sized for your home's needs

Washcloth

Stone or Wood surface materials (optional)

Level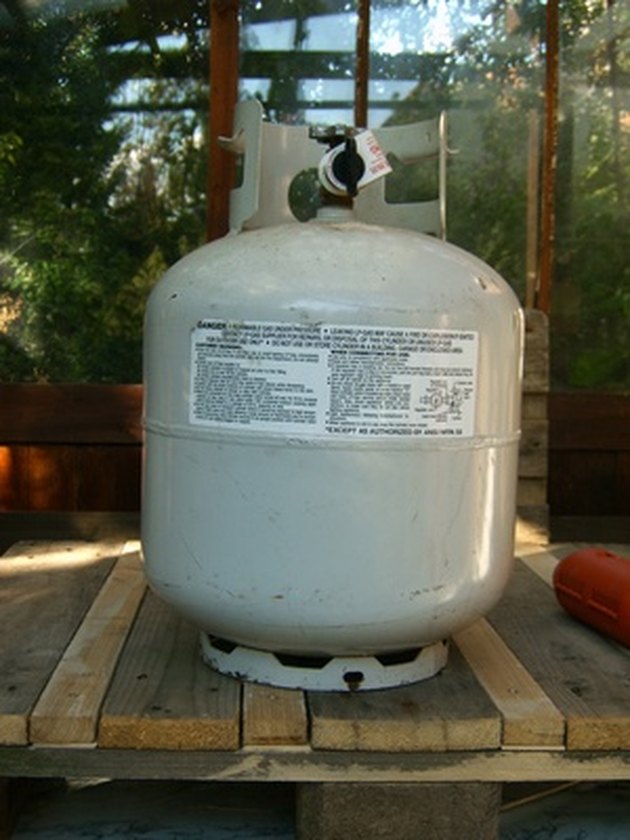 Propane is a fuel that is best known for use with cooking devices such as outdoor grills. However, some homes use propane as a source of energy to warm water, provide heat and cook indoors. A home's propane tank is similar to that of a grill's. It is connected with the same line, meter and safety precautions. It is also similar in appearance. The only major difference is that a home requires a larger tank than that of a grill. The process can be challenging, but any cautious and dedicated homeowner can complete this task.
Step 1
Choose a level surface to place the propane tank. Use a level to make sure the surface is flat. Creating a stone or wood base might be necessary if the ground is too soft.
Step 2
Place the propane tank on the flat surface.
Step 3
Close the valve on the top of the propane tank. It should arrive closed, but make sure that it is tightly secured in the closed position.
Step 4
Uncover the threaded section on the side of the tank's valve. The tank will arrive with a plastic wrap that needs to be pulled off.
Step 5
Attach the regulator hose to the threaded portion of the valve from which you just removed the plastic covering. Insert the hose into the threaded nozzle. Turn the end of the hose counterclockwise within the threaded nozzle. This will tighten the hose to the nozzle. The threads on the hose will align and lock with the threads on the nozzle.
Step 6
Attach the remaining end of the hose to the propane connection on the exterior of your house. Insert the hose into the connection line. Turn the end of the hose counterclockwise to secure the hose to the connection line. The threads on the end of the hose will align and lock into place with the threads within the connection line.
Step 7
Turn on the valve on the top of the propane tank by gently rotating it clockwise. This will release the propane from the tank and allow it to travel through the hose and into the house.
Step 8
Test the connections for leaks. Spread soapy water around the connection points of the hose, tank and house. If any bubbles show up, that means there are leaks. Tighten any connections that are producing bubbles. Do this until the bubbles no longer appear.
---
Kim Sarah has been a writer since 2000. Her work has appeared on NECN, WCTR-TV3 and in the "Torch" university newspaper, among other publications. Sarah received a Bachelor of Arts in communications from Worcester State University and a Master of Arts in journalism from Roosevelt University. She is also studying nursing and computer science at Indiana State University.