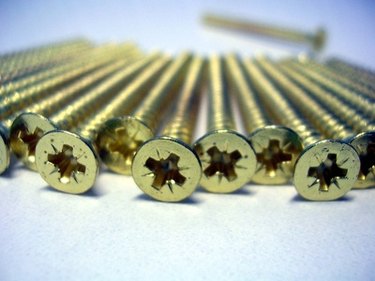 A screw refers to a type of fastener device which is comprised of a thread, or helical ridge, that wraps around a cylinder body. One type of screw called the truss head is shaped in a way that provides fastening support with the least amount of surface obstruction.
Truss Head
Truss head refers to a screw head that is extra wide and has a slightly rounded surface, or top. In other words, the head or top of the screw protrudes just above the surface to be fastened, but contains a wider surface area just under the head.
Uses
These screws can be used for applications like securing thin membranes, such as one-ply, through insulation. Wooden truss head screws are also commonly used to attach cabinets to steel studs; or to attach sliding shelf supports, since the low-profile head of the truss head screw does not interfere with guide operation.
Advantages
Truss head screws are well suited for sheet metal and other material with large diameter holes due to their wide head. Additionally, because of their low-dome shaped head, these screws make tampering with or removing the head difficult.