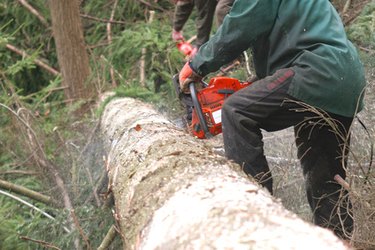 The Husqvarna 371 XP is a chainsaw produced in the late 1980s by the Swedish company, Husqvarna, a global manufacturer of outdoor power machinery. The 371 XP chainsaw was discontinued when new models were introduced, including the 372 XP in 2000. Since then, Husqvarna has continued to improve its chainsaws to meet the EPA's emission standards and, as of 2010, Husqvarna was manufacturing eleven main models of chainsaws, from the 3120 XP to the 359.
Overview of the Husqvarna 371 XP
The Husqvarna 371 XP is a durable chainsaw designed for both personal and commercial use to cut trees, logs and wood. The chainsaw weighs 13 pounds net, not including the bar and chain. The bar weighs approximately 20 pounds and its standard operating length is 14.3 inches. This model can also use different saw mounts, in lengths of 15, 16, 18, 20, 24 and 28 inches. The pitch of the chain, or the distance between its links, is 3/8 of an inch. The chain moves at a speed of 21.4 meters per second, at the machine's maximum speed.
Engine
The engine on the Husqvarna 371 XP has an idling speed of 2,700 revolutions per minute (rpm) and power speed of 9,600 rpm, which is in line with the most updated, heavy-duty Husqvarna chainsaw models. The chainsaw has a 2-stroke engine, with a displacement of 71 cubic centimeters. The cylinder volume on the engine is 4.3 cubic inches, the cylinder stroke is 1.42 inches while the bore, which is the diameter of the piston in the engine, is 1.97 inches.
Fuel System
The 371 XP chainsaw operates on gasoline, with fuel capacity of 1.63 U.S. pints. The oil capacity is 0.89 pints.
Noise Level and Vibration
The equivalent noise pressure level for the chainsaw's operator is 103 decibels, as measured on the "A" scale. The noise power level, based on international measurements, is 110 decibels. The chainsaw has a mechanism to reduce its operating vibrations as felt on the handles.
Safety Equipment
The Husqvarna 371 XP chainsaw is equipped with a number of important safety devices, including an emergency stop switch for the engine, which is located near the main handle, a chain brake and guard with immediate response for the front and right handles, a lock for the throttle and a chain catcher, which catches the chain if it happens to fall off during operation.