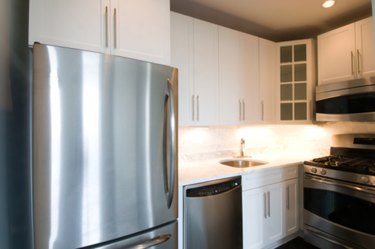 Refrigerator compressors are responsible for controlling the temperature within the unit. As air or coolant passes through a refrigerator's compressor, it is either compressed or left to stand as it is. When coolant is compressed, it warms as its molecules are creating equivalent energy in a smaller space, thus generating more heat. Dual compressor refrigerators are uncommon and allow for greater temperature control. They are often side-by-side or top/bottom units and are produced by companies such as Sub Zero and Thermador.
Sub Zero
Sub Zero is a self-described preservation specialty company that produces fridges, under-counter refrigeration units and wine coolers. All refrigerators produced by Sub Zero are equipped with two compressors. The company produces Pro, Built-In and Integrated units for home use. Pro refrigerators are high-capacity units with a number of compartments designed for professional kitchens and chefs. Built-In units can be purchased over/under fridge/freezer pieces, single refrigerators sans freezers or side-by-side fridge/freezer units designed to fit into wall cavities for a seamless kitchen look. Integrated refrigerators are those built specifically to fit the design of a kitchen's cabinets so as not to be noticeable as a refrigerator.
Miele
Miele is a German company specializing in the manufacture of kitchen appliances. The company produces a dozen side-by-side fridge/freezer combination units and eight bottom-mount, or top/bottom, fridge/freezer units, all of which are equipped with dual compressor systems. Bottom-mount refrigerators are categorized by size and the side of the unit on which the hinge is located. Two models are in each of the following categories: 36-inch left hinge; 36-inch right hinge; 30-inch left hinge; 30-inch right hinge. Side-by-side Miele fridges are categorized by sizes. Sizes are 72 inches (two models), 60 inches (two models), 54 inches (four models) and 48 inches (four models).
Thermador
Thermador is a kitchen appliance company with five types of refrigeration units, each of which features dual compression technology. These types are refrigerator columns, freezer columns, bottom freezer refrigerators, wine coolers and side-by-side refrigerators. Column-style refrigeration units are tall and think and function as either a refrigerator or a freezer. The units were designed independently to allow homeowners to install the fridge and freezer as separate locations. Bottom freezer units have pullout freezers located beneath a refrigerator that can be purchased as either a singe or a dual-door unit. Wine coolers are column units similar to the independent fridge and freezer columns and side-by-side refrigerators are self-explanatory.