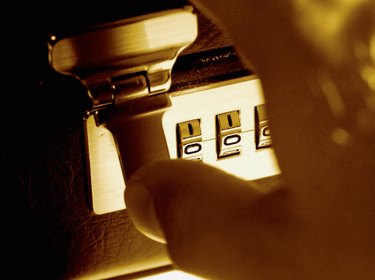 The Vaultz company manufactures a wide assortment of lockable media storage containers for the consumer market such as CD/DVD cases, briefcases, file cabinets, laptop cases and toolboxes. Many of their products utilize a three-digit combination lock to secure items inside their storage products. Resetting your personal combination code for your Vaultz product to a unique set of numbers will help reduce the likelihood of an unauthorized person gaining access to the container's contents. Resetting your personal combination code is an easy task that takes a few minutes to complete.
Step 1
Set the combination dials on the product to "000" if you have not yet set a personal combination code. Enter your current combination code to open the storage container if you had previously configured the combination lock. Slide the release button next to the combination dials in order to open the storage container.
Step 2
Remove the plastic safety tab from the combination dials if you are using the product for the first time. Allow the lock latch to remain in the open position, hold the release button toward the combination dials and change the combination code by rotating the combination dials.
Step 3
Release the square button near the combination dials after setting your preferred number combination. Rotate the combination dials randomly and attempt to slide the release button toward the "Open" position.
Step 4
Roll the dials back to the new combination code and slide the release button toward the "Open" position to check for proper functionality before closing the container.
---
In the spring of 2008, Blaze Johnson decided to share his expertise through writing. He studied business administration at a local community college and runs his own driveway mechanic service, specializing in computer-controlled vehicles and custom car audio installs. Johnson also serves as the de facto computer repair person for his family, friends and coworkers.