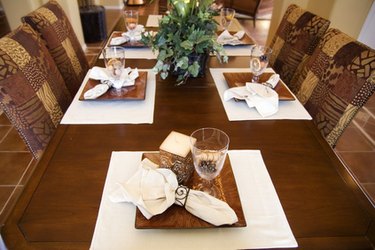 As the holidays approach, people across the country are inserting leaves into their tables to accommodate extra guests. Most tables with leaves open in the center and pull apart, making room for the extra piece. Before the table can be pulled apart though, the locks that keep the table together need to be undone. There are two different types of leaf locks: click catch and align-n-lock. Both are easy to open, but you need to know which type you are dealing with to unlock them correctly.
Unlocking an Align-n-Lock
Step 1
Kneel or sit under the center of the table and find the location of the locks. Make sure you can reach both sides of the table from your position.
Step 2
Locate the locks and find the bottom, V-shaped, portion of the device. This is the part of the lock you will be turning.
Step 3
Grasp the bottom of the lock and turn it towards the other side of the table. If the bottom portion of the lock is on the right side of the table, turn the bottom portion to the left and vice versa. Repeat with all of the locks.
Step 4
Pull the table apart. Once the locks have been opened, have one person stand at each end of the table and pull it open. The table will need to be wide enough to insert the leaf.
Step 5
Place the leaf in the opening. Look for wooden dowels on the leaf that line up with the insides of the open table. Once the leaf is in place, push the table back together and lock.
Unlocking a Click Catch
Step 1
Position yourself on the side of the table so you can access the locks. You will most likely want to sit or kneel.
Step 2
Find the catch portion of the lock, which is circular. This will rotate to open the lock.
Step 3
Twist the catch part of the lock away from the click portion, which is the longer piece on the opposite side. This will unlock the leaf. Repeat with each lock.
Step 4
Open the table by pulling on each end at the same time. Create an opening large enough for the leaf.
Step 5
Insert the leaf, paying close attention to any dowels that fit into the inside of the open table. Once the leaf is in place, push the table back together and secure with the locks.