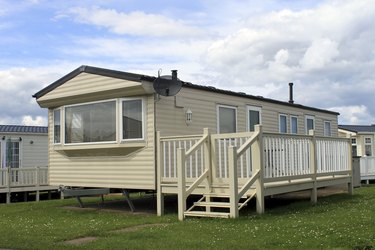 The term "double-wide" refers to a mobile home that is constructed of two sections, each the width of a single-wide mobile home. A double-wide home offers greater variety and flexibility in floor plans and enhanced living space.
Perimeter Measurements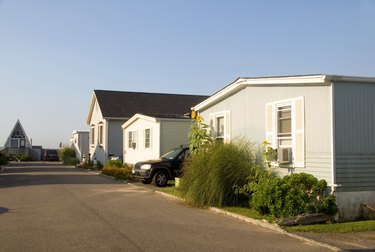 Double-wide mobile home measurements vary among manufacturers, but the most common widths are 20, 24, 28 and 32 feet. Length measurements generally fall in the range of 42 to 60 feet.
Interior Size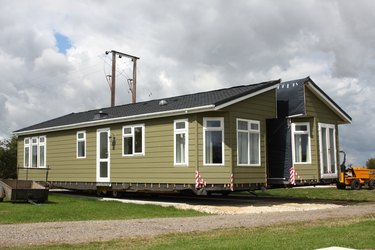 The size of the interior living area is a function of the outer dimensions. A home that is 20 feet wide and 42 feet long has an 840-square-foot interior, while one that is 32 feet wide and 60 feet long provides 1,920 square feet.
Configurations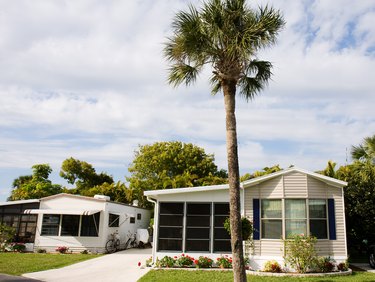 A basic double-wide home consists of two sections of equal width and length that are bolted together to create a larger, rectangular space. However, sometimes one section may be shorter or contain a push-out, such as a breakfast nook that slides out or is attached at the home site.
Amenities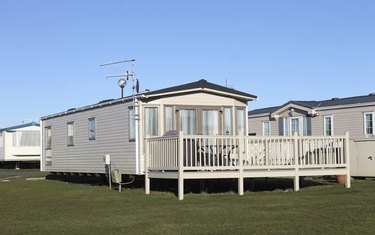 A double-wide may include an up-to-date kitchen and two or three bedrooms with one or two bathrooms. Pitched ceilings, skylights and fireplaces are common, as are French doors and bamboo floors.
---
Cynthia Gast began writing professionally over 25 years ago in the automotive magazine niche and has also taught preschoolers and elementary grades. She has been a full-time freelance writer since 2008. Gast holds a Bachelor of Arts in history from the University of Illinois.