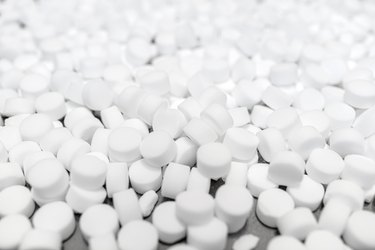 Homeowners who own water softeners will eventually be faced with the problem of how to dispose of water softener salt. This is no idle question. It's estimated that about 85 percent of the country has hard water that can use some sort of water softening treatment. And sooner or later, excess salt used in the softening process will have to be disposed of.
There are a few reasons you may be faced with the problem of how to dispose of water softener salt. If you replace an existing softener with a new one, you will need to get rid of the salt remaining in the old appliance. Also, routine maintenance and troubleshooting can leave you with leftover salt you need to use or dispose of.
How to Dispose of Water Softener Salt
If you're faced with figuring out how to dispose of water softener salt, here are a few safe ways to get rid of the material (or reuse it).
Place Water Softener Salt in the Trash
In most cases, salt is not an environmental hazard, and it can be handled safely for disposal.
Scoop the salt into plastic trash bags.
Place the bags out for regular trash pickup.
Mix Up a Weed Killer With Water Softener Salt
Salt can be harmful to plants, so you don't want salty water to come in contact with lawns and flower or vegetable gardens. But when used correctly, it can be an effective weed killer. Because salt can harm most plants and is bad for soil, it's best to confine this technique to killing weeds that grow through cracks in the sidewalk, driveway, or patio.
Add one part salt to three parts water in a plastic spray bottle and shake until the salt is dissolved. Don't worry too much about the exact proportions. Just be sure that the salt is dissolved in the water.
Spray the solution on weeds, wetting the entire plant from top to bottom.
Repeat as needed because rain will wash away the salt.
Reuse Water Softener Salt to De-Ice Walkways
Salt can melt ice, and many commercial-grade de-icers contain a variety of salts. But once the temperature goes below 15 degrees, water softener salt is not efficient at de-icing. In those cases, use a product that contains calcium chloride.
Place the salt in a bucket.
Spread the salt over walkways that are covered with ice and snow.
Warning
Using softener salt as a de-icer will irritate the paws of dogs, cats, and other animals.
Give Old Water Softener Salt Away
If you have a water softener, then some of your neighbors may too. Clean, dry softener salt, especially in unopened bags, would be appreciated.
Warning
One method of disposing of water softener salt is to dissolve it in a bathtub and let it flow down the drain. This may actually be illegal in some places.
Many municipal water systems are not capable of removing salt from wastewater. When the water is discharged into streams and lakes, it could harm aquatic life. The same is true of homes that use a septic system for wastewater. Salty water that leaches into the soil could change the composition of the soil and harm plant life.
Some states have taken steps to limit the use of salt-based water softeners. For example, Connecticut places restrictions on the discharge of salt brine into home septic systems. In most cases, states leave the regulation of water softeners to individual counties and municipalities.
Why Use Salt for Water Softening?
Although we don't think of it as such, water is a solvent that picks up a little of everything it touches. Ground water can especially contain a number of minerals, such as calcium and magnesium. These minerals make the water hard.
Hard water can leave mineral spots on glasses and dishes, create a buildup of soap scum on shower walls, and leave your skin feeling dry and itchy. Hard water can also form mineral deposits around shower and faucet heads as well as a buildup of scale in pipes, plumbing fixtures, and water heaters.
There are a few different types of water softeners, but the most common is the ion exchange softener that uses salt (sodium chloride) in the water conditioning process. Hard water flows into a tank containing tiny resin beads that attract and hold the minerals in the water, producing soft water. Over time, the beads become saturated with minerals and must be renewed through a process called regeneration. This involves a saltwater brine solution that flows from a brine tank and through the tank of resin beads, removing the calcium and magnesium molecules from the beads. Both the salty water and the minerals are then flushed down a drain.
The type of salt used in water softeners is rock salt, which is mined salt; solar salt, which is evaporated sea water; or evaporated salt, which is fresh water that goes through an evaporation process. The water softening process does add some sodium to the home's water supply. Potassium chloride is a salt alternative used by people who need to drastically reduce their sodium intake.
You may need to know how to dispose of water softener salt after performing maintenance on the water softening system. Sometimes, the salt can become compacted, forming a salt bridge that must be removed. Another problem is salt mushing, where a sludge forms in the brine tank, preventing the flow of water used in regeneration. Remove the sludge and clean the brine tank according to the manufacturer's instructions.
Most of the salt you remove from the softener during maintenance cannot be reused, but if there is clean, dry salt in the system, it can be reused. Scoop it out and place it in a clean container for later use.