Cooking quesadillas may seem like a difficult task, but quesadilla makers are pretty easy to use. Since they heat up quickly, you can grill tortillas in minutes and stuff them with your favorite fillings. There are several companies that manufacture quesadilla makers, but the models all perform the same, no matter what brand you're using in the kitchen. After you've taken your quesadilla maker out of the box, be sure to wipe down all of its surfaces with a damp cloth before plugging it in.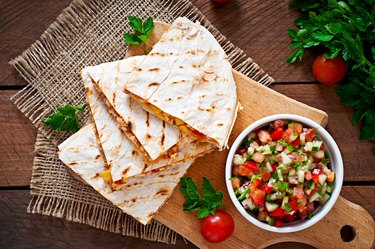 What To Include In Your Quesdailla
Once you get the hang of cooking a quesadilla, your options are endless on what you can stuff your tortillas with. The quesadilla maker grills the outside of tortillas and melts and heats the inside toppings. You can include fillings like vegetables or cheese, which will melt or slightly heat up. If you want to include fillings like meat or eggs though, you have to thoroughly cook them prior to filling your quesadilla. Whether you're planning a party, or just want a rainy day comfort meal, below are step by step instructions on how to operate a quesadilla maker.
Step One: How To Prep A Quesadilla Maker
Spray the inside surfaces (lid and base) of the quesadilla maker with non-stick cooking spray or a light coat of oil, to make sure the tortilla doesn't stick.
Step Two: Always Preheat Your Maker
Close the lid and plug the device into an electrical outlet. Allow the quesadilla maker to preheat -- this takes approximately five minutes. Most devices have an indicator light to show when the device is hot. The light will be solid green during heating, then flash when the appropriate temperature is reached.
Step Three: Begin Assembling Your Quesadilla
Lift the lid of the device. You may want to wear oven mitts because the inside surface will be very hot. Place the assembled quesadilla (tortilla and fillings) in the center of the bottom cooking surface. When prepping your quesadilla, make sure to not overfill your tortilla with ingredients. Close the lid and press the lid latch down to secure it.
Step Four: Cook The Quesadilla
Open the lid carefully after approximately three to five minutes. The amount of time used varies, based on your quesadilla's fillings. Leaving the quesadilla in the maker too long will cause the fillings to melt out the sides. Slide a spatula under the bottom of the quesadilla and transfer it to a plate. Close the lid immediately if you intend to make more quesadillas, so the heat will not escape.
Step Five: How To Clean The Quesadilla Maker Post Cooking
Open the lid when finished cooking and wait for the indicator light to turn off. Unplug the unit and wait several minutes for the surfaces to cool. Wipe with a damp cloth to clean any food from the cooking surfaces.