Though the right choice of rail design can add a major dose of decorative flair to a staircase, handrails on stairs serve a much more important function than style: They help provide support and access to those with disabilities when traveling up and down a flight of stairs. While you should install handrails on stairs whenever possible, not every outdoor stair construction project requires exterior stair handrails in order to meet code requirements. When building an outdoor deck, porch or raised terrace, or if you are installing a path of stairs on your property, it's important to know what's required.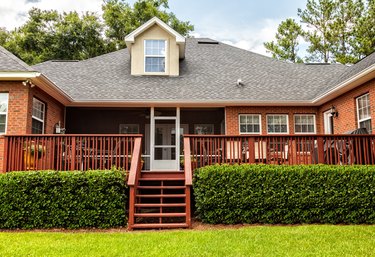 Exterior Stair Railing Code
While the finer details will ultimately be influenced by your local government's building regulations, the International Building Code, the International Residential Code and the standards set by the Americans with Disabilities Act of 1990 maintain that exterior stairs that are a required point of egress – in other words, stairs that must be crossed on your way in and out of the building – must have handrails. This applies to any staircase with two or more risers. The associated railing height code states that these rails must be placed between 34 and 38 inches above the walking surface of the stairs. Rails must be able to support a load of at least 200 pounds and must extend at minimum 12 inches horizontally past the riser nosing at the top of the stairs and at least equal to one tread depth horizontally at the bottom of the stairs. They can be styled in a variety of ways as long as they provide adequate space for a hand to grip them. It should be noted that building codes and regulations for exterior stairs are not exactly the same as those for interior stairs. While there is some amount of crossover, interior stairs have their own code requirements.
Minimum Deck Heights
When building an outdoor deck, whether or not you'll need to include handrails will depend on the height of your construction. Exterior stair railing code maintains that if your deck's stairs have fewer than two risers, a rail is not mandatory. On a related note, your deck must have guardrails or similar if it exceeds a height of 30 inches from the ground.
Exceptions to the Rule
There exist a handful of exceptions to the exterior stair railing code. For instance, monumental staircases and other stairways that are not part of a required path of egress do not require compliance in regard to their handrails. Stairs complemented with accessibility ramps do not always require handrails, though at certain slopes, those ramps will require handrails to meet code standards.